25 Jul 2023
What Type of Moving & Handling Equipment is Used in Care Homes?

Care homes look after a range of residents with varying ranges of mobility, and providing care to some low mobility residents will require manual handling for carers.
In the 2021 census, over 11 million people (18.6% of the total population) were aged 65 years or older, compared to 16.4% in 2011.
For care home residents, falls are a particular concern, and the highest risk of falls is in people aged 65 and over.
What to do When a Person Falls in a Care Home
In these situations, it is important that moving and handling tasks are performed correctly to avoid causing injury or distress to residents and/or carers.
Along with ensuring that moving and handling equipment is properly stored and regularly serviced, it is also paramount that carers are provided with appropriate moving and handling training.
Regular servicing of lifting equipment used in a care home ensures that the manual handling or lifting equipment is in the proper working condition and that both carers and residents are protected from injury.
Below, we take a closer look at the types of manual handling and lifting equipment used in care homes.
When is Moving and Handling Needed in Care Homes?
A carer may be required to engage in manual handling tasks to aid with day-to-day activities for a low mobility resident, these situations can range from:
Lifting a fallen resident from the floor
Bed to chair transfers (this can be a care chair or a wheelchair)
Lateral transfers
Toileting/bathing & personal hygiene care
Repositioning, turning and pressure injury management.
What Types of Moving and Handling Equipment are Used in Care Homes?
Depending on the manual handling task required, there is a range of manual handling and lifting equipment that carers can use for the moving and handling of care home residents.
Some common types of lifting equipment used in care homes include:
Patient lifts: These are devices used to transfer residents from one surface to another, such as from a bed to a wheelchair. They come in various forms, patient lifts can either pick up and transfer a patient, or they can lift-up a patient and transfer them to the desired surface.
Types of patient lifts used in care homes:
Overhead patient lifts – These lifting aids can be affixed above a bed or a chair.
Flat/Lateral patient lifts – These aids can lift someone from the floor and transfer then to a bed or other flat surface.
Slings: Slings are used in conjunction with patient lifts to support and secure the resident during the transfer. There are several types of slings available, including full-body slings, seating slings, and standing slings.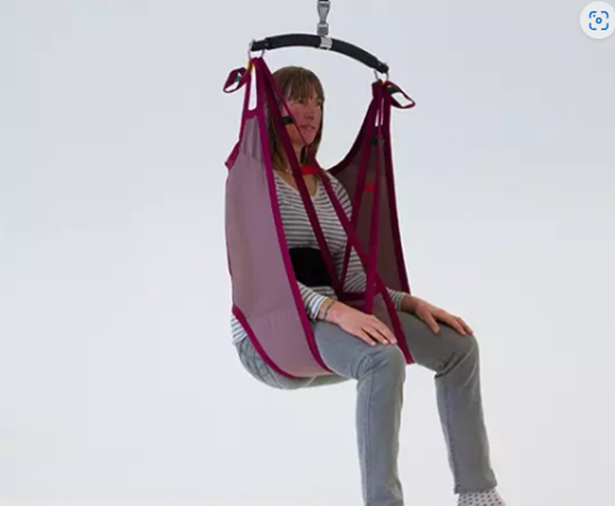 Hoists: Hoists are like patient lifts but are designed for larger, more complex transfers, such as from a bed to a bath or shower. Available as static hoists, or mobile hoists, these lifting aids often have large lifting capacities.
Mobile hoists are also built with a reasonably large weight limit that allows them to cater to a range of residents.
For even more manoeuvrability, compact patient hoists are available, there is a trade-off that means the smaller size comes with a lower lifting capacity. It is important to find the ideal mobile hoist for a care home resident(s) specific need.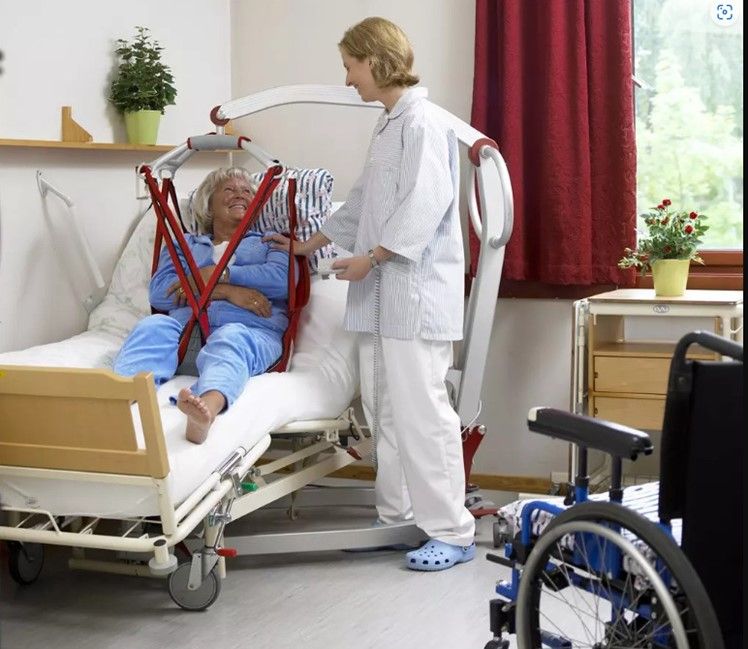 Lifting Cushions & Inflatable Lifting Equipment: These types of lifting aid are used to pick up a fallen person from the ground.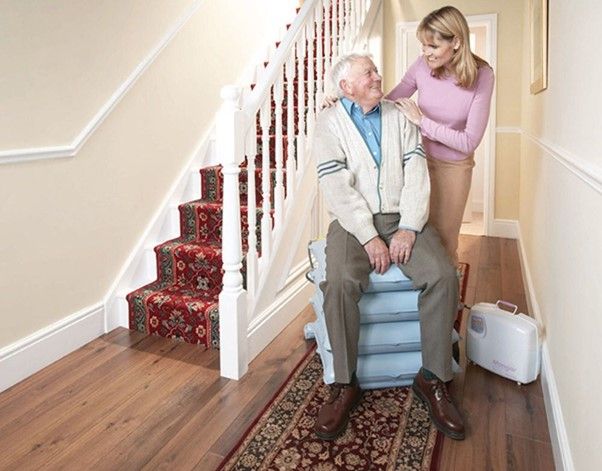 Lifting Chairs: A newer way to respond to non-injurious falls, lifting chairs such as the Raizer Lifting Chair are assembled around a fallen resident, then a stable motorised chair lift brings the fallen person back to a seated position. Used in care homes, hospital inpatient wards and in urgent community care teams across the UK, the Raizer lifting chairs are a time saving and cost-effective way to respond to non-injurious falls.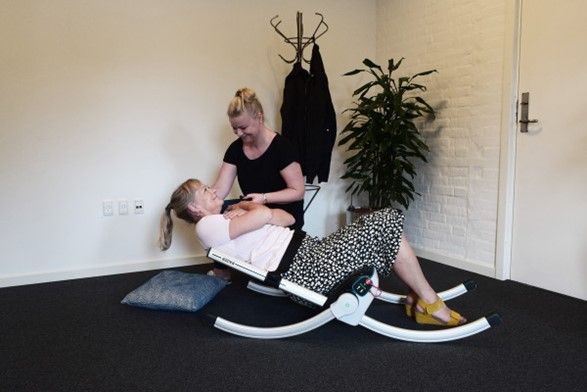 Summary
There are various ways that care homes perform daily moving and handling of residents, from patient lifts that can come in static and mobile versions, to hoists, slings and slide sheets. These manual handling aids assist with the moving and handling of residents and enable easier, safer and more dignified care to be provided to a care home resident.
There are also multiple ways for a care home employee to respond to a non-injured fallen person. From inflatable cushions to electric lifting chairs that provide a motorised and stable lift, the right lifting aid for use in a care home very much depends on a variety of factors including the regularity which the falls response aid will be used, the weight of the patients that will is being lifted and whether the fallen person is injured or not.
Read the full article here: Moving & Handling & Patient Lift Equipment Used in Care Homes (vivid.care)