22 Aug 2023
OneTouch Health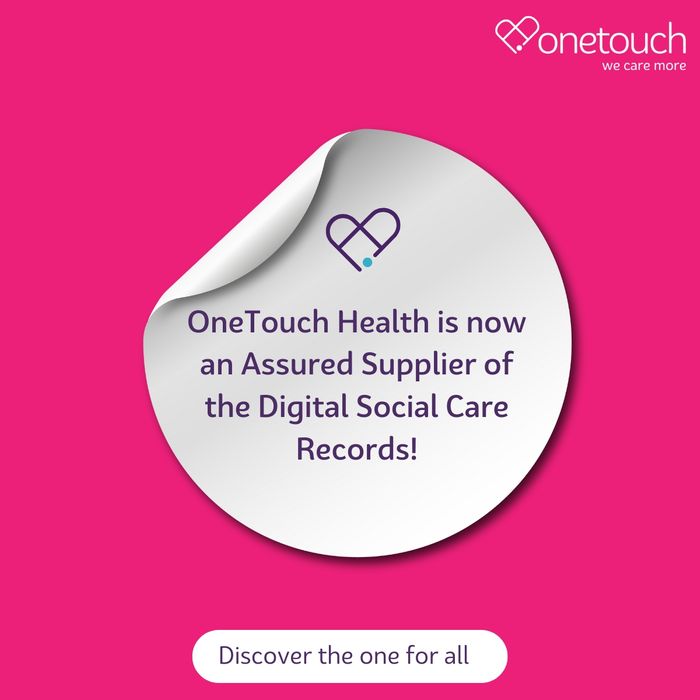 OneTouch Health has reached a significant milestone by achieving the esteemed status of being an Assured Supplier for Digital Social Care Records (DSCR), as officially recognized by the NHS England Transformation Directorate. This recognition underscores the company's commitment to revolutionizing care management systems for providers in the healthcare industry.
The journey to securing a place on the coveted Assured Supplier List involved a rigorous assessment process that covered a wide spectrum of criteria. OneTouch Health underwent comprehensive evaluations of its care support capabilities, stringent data security protocols, unwavering availability, and impeccable reliability measures. The test also encompassed the platform's user-friendliness, which stood up to meticulous scrutiny.
This approval translates into more than just a badge of honour for OneTouch Health; it translates into tangible benefits for care providers across the spectrum. One of the most compelling advantages is the alleviation of the burdensome and resource-intensive due diligence and quality checks that often pose formidable obstacles to care providers considering digital transformation.
With OneTouch Health's Assured Supplier status, the path to digitization becomes notably smoother, quicker, and devoid of friction, opening doors to enhanced operational efficiencies and improved patient care.
What sets OneTouch Health apart is its unparalleled functionality, encompassing a wide array of features that cater to various segments of the social care delivery network. From domiciliary care to complex cases and even palliative care, the platform's versatility extends to encompass diverse care delivery services, accommodating multiple functions under one umbrella.
Dermot Clancy, the CEO of The OneTouch Health Group, expressed his profound delight and sense of honour at achieving Assured status within the NHS ecosystem. Dermot aptly encapsulated the collective sentiment of the entire OneTouch Health team, emphasizing that this recognition serves as a conduit through which the company can empower an expansive array of care providers to elevate the quality of services extended to those who are entrusted in their care.
For inquiries and support on initiating your digital transformation, please get in touch with the OneTouch Health Sales Team at sales@onetouchhealth.net.
The pathway to a digitally empowered future in healthcare begins here.
https://www.digitalsocialcare.co.uk/social-care-technology/digital-social-care-records-dynamic-purchasing-system/assured-solution-list/onetouch/
To book a demo please click here