04 Oct 2023
Introducing PillTime Care: Your Time-Saving Medication Management Partner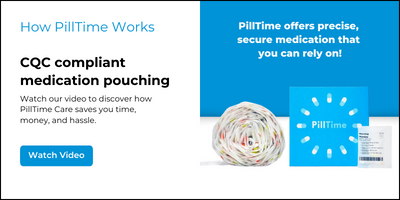 At PillTime Care, we're more than just a Nationwide pharmacy; we're your trusted ally in optimising medication management for care providers. As the 4th largest pharmacy in England, we stand out by offering a unique free service, dedicated to supporting the NHS.
In 2016, we started PillTime by providing medication to our first patient. Since then, our service has rapidly expanded, and we now cater to over 13,000 patients who choose to receive their medicines through our customised pouches.
PillTime Care is our proposition to care providers such as care homes, domiciliary care providers, primary care practices, and hospitals. We are…
CQC compliant.
free for NHS prescriptions.
powered by our Automated Medication Dispensing System.
approved by the NHS and proven to reduce medicine administration incidents​, the number of missed doses and staff stress​.
PillTime's pouching service improves patient medication adherence and reduces medication errors, as independently assessed and approved by the NHS during a pilot at Salford Royal Hospital. This modern solution can also reduce the overall burden on the NHS and improve health efficiency.
Our clinical excellence sets us apart.
With eight rigorous clinical checks compared to the standard two, we prioritise patient safety through the utilisation of cutting-edge automation and technology, reducing the risk of human error. Recognised as a CQC-compliant "extra safeguard," we pride ourselves on reducing hospital re-admissions by ensuring patients take their medicines precisely as prescribed.
Our care provider service
Experience streamlined medication management with PillTime Care, designed exclusively for your care homes. Our solution simplifies the intricate process of medication management, significantly reducing the risks of medication errors, misunderstandings, and negligence.
'100% of Care Providers inspected by the CQC that use
PillTime Pouches were rated 'Good' or 'Outstanding'. ​
Our process begins with a simple request: order with your GP three weeks before the next cycle starts. We cross-check your order against prescriptions to flag any missing medicines. Our clear pouches, each labelled with medicines' descriptions, simplify the process. Every resident receives a personalised dispensing box, containing a convenient 28-day supply. Auditing becomes a breeze, saving you valuable time every cycle.
Benefit from personalised support with our team of pharmacists for medication reviews and more. PillTime Care also provides onboarding support, training, and a dedicated team for care providers, ensuring a seamless experience.
Enhanced efficiency: PillTime Care minimises the time spent chasing and checking prescriptions, allowing your staff to focus on essential tasks that maintain company stability and meet high standards of care.
Seamless integration and simplicity: We provide your management staff with straightforward digital systems that smoothly transition from paper-based processes, ensuring a hassle-free adoption.
Improved staff well-being and retention: PillTime Care reduces anxiety and sickness among your workforce, leading to a more stable team and effectively addressing the critical concerns of staff recruitment and retention.
Unlock time savings: Our partners experience shows that for a 28-bed care home they save 1,200 hours of labour time a year, the equivalent of £16K. For a 500-bed care group, they save over 22,000 hours of labour time a year, the equivalent of £285K.
PillTime Care supports independence, offering up to ten pouched dose times in one day, perfect for patients with unique requirements. Reduce errors, save time, and gain peace of mind with our proven, efficient solution.
What is Pouching?
Medication Pouching is a safe and precise method that uses AI and robotics to package individual medication doses into tailored pouches.
It is eco-friendly and gaining popularity for reducing medication waste while supporting sustainable healthcare practices.
Our automated medication management system reduces errors and ensures patients receive the correct medication at the right time. Labelled pre-packaged doses make it easy for patients and caregivers to know when and what medication to take, promoting adherence and complying with CQC guidelines for person-centred care.
Download PillTime's NHS study with The Limes in Salford, Manchester which produced incredible results in time and cost savings, with visibly happier staff!
Become a PillTime Partner
We are an online pharmacy registered with the NHS and best of all: our service is completely FREE for NHS prescriptions. When you sign up with PillTime Care as a Care Provider, you will get access to unique benefits and support to help you provide the best care for your patients.
Free business account
Free training and onboarding
Free ouches for each resident
Free delivery to your care home
Visit us at care.pilltime.co.uk today to embark on a journey toward excellence in care.