15 Oct 2019
G360 total solutions from Gainsborough Specialist Bathrooms attract key industry figures at The Care Show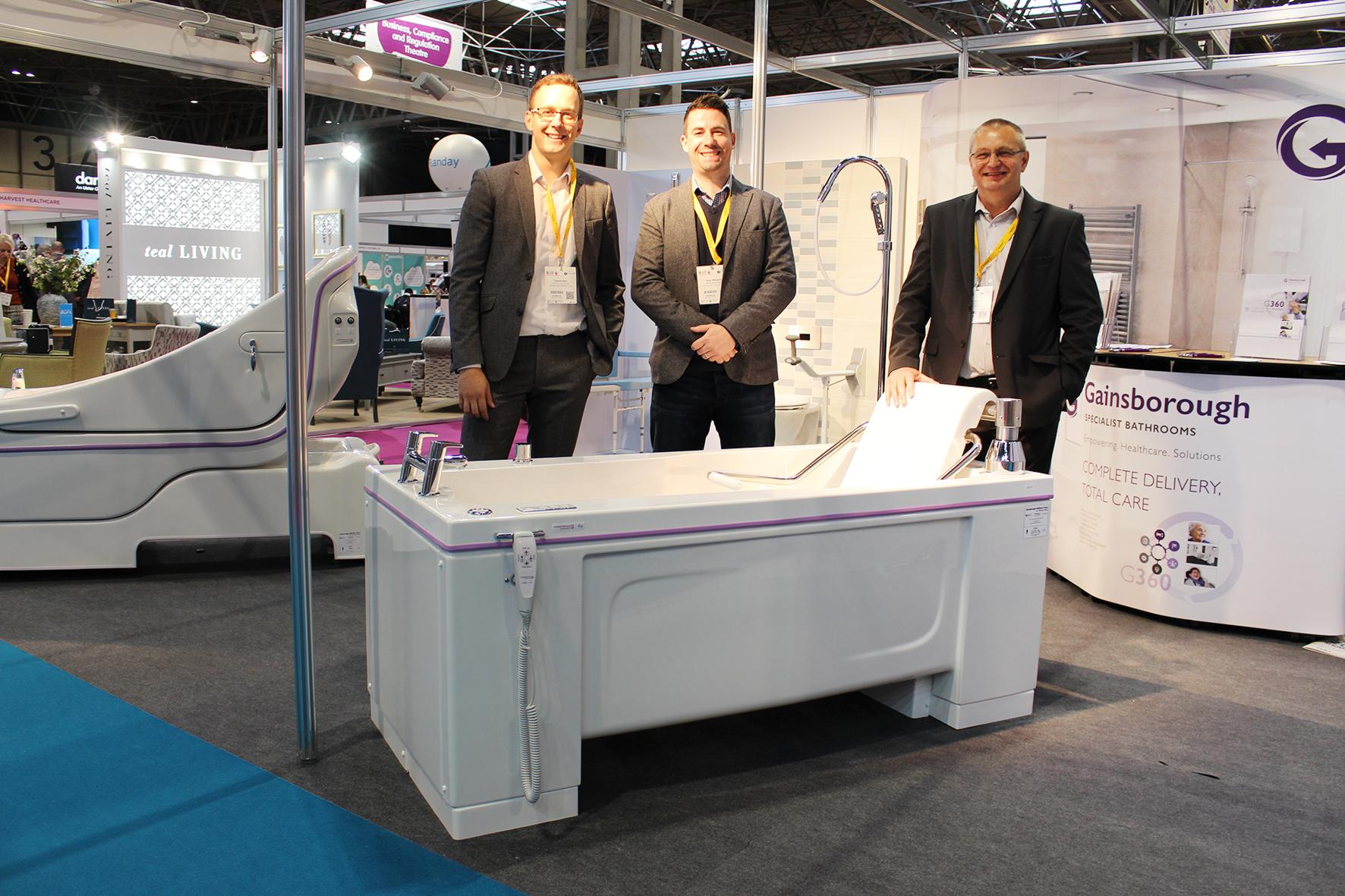 15.10.19
PRESS RELEASE
FOR IMMEDIATE RELEASE
G360 total solutions from Gainsborough Specialist Bathrooms attract key industry figures at The Care Show
Gainsborough Specialist Bathrooms, formerly Gainsborough Specialist Bathing, has experienced a positive Care Show with several major healthcare providers expressing interest in its new G360 accessible bathroom and wet room services.
Part of the Gainsborough Healthcare Group, Gainsborough demonstrated its complete range of trusted bathroom services with examples from its product range. Top level management and procurement personnel were able to see the cutting-edge power-assisted hi-lo Gentona and reclining Sentes baths alongside a specialist wet room mock-up – all highlighting the holistic approach of this established manufacturing specialist.
Its new G360 services provide a first for the healthcare sector as they offer a single source for infinite accessible bathroom solutions within care homes, hospitals and rehabilitation facilities. By choosing Gainsborough providers are able to maximise care, efficiency and sustainability so that critical factors such as CQC ratings and infection control are enhanced. Gainsborough has built on its 30-year manufacturing heritage to bring to market this unique and dynamic proposition ­– 100% focused on the needs of disabled bathers.
G360 Services delivered a key highlight at The Care Show as they encompass:
Power-assisted baths
Accessible bathrooms and wet rooms
Transfer, toileting and washing equipment
Project design and technical support
Enablement pre-works, installation and project management
Servicing, maintenance and testing
Peter Eckhardt, CEO, Gainsborough Healthcare Group, comments: "We were delighted to welcome several major players to our stand this year. These influential figures from the healthcare sector were able to discover more about our G360 services and why Gainsborough represents the pioneering choice for long term value. From a strategic point of view, we are the brand to deliver care excellence in the most innovative way through a synergy of skills and products. I believe our reputation for strong customer relationships with a personable approach is driving our business growth – epitomised by the healthy footfall we experienced at The Care Show. We will now be leveraging this platform to take our service commitment even further."
Tel: 01527 400 022 info@gainsboroughbaths.com www.gainsboroughbaths.com
* ENDS *
Picture caption: The Gainsborough Specialist Bathrooms stand at the Care Show featured the antimicrobial Gentona bath, reclining Sentes bath and G360 wet room.
Gainsborough Specialist Bathrooms
Part of the Gainsborough Healthcare Group, we have been a specialist assisted bath manufacturer for long term and acute care since 1988. Through expert evolution, we are now a total bathroom solution specialist that delivers assured care, safety and accessibility for semi-ambulant bathers, healthcare providers and moving and handling professionals.
Our holistic products and services deliver ultra-efficiency and cutting-edge infection control with a bather-centric approach. Duty of care is safeguarded by our excellence in bathroom and wet room ergonomics that meet the healthcare challenges of today and tomorrow.
We are a proven partner that delivers all aspects, sustainably. From complete bathrooms and wet rooms to transfer equipment and sanitary ware; project design and management; technical innovation and support; to complete installation and lifetime servicing – Gainsborough is the solution.
For further information please contact: Issued on behalf of:
Jon Nock Gainsborough Specialist Bathrooms
Director Gainsborough Healthcare Group Ltd
iDIS Creative Marketing Partnership 10 & 11 The Oaks, Clews Road
6B (First Floor), Redditch, Worcestershire, B98 7ST
The Courtyard, Meadow Bank Email: info@gainsboroughbaths.com
Furlong Road, Bourne End www.gainsboroughbaths.com
Bucks SL8 5AU
Mob: +44(0)7786 245896
Email: jon@idiscreativemarketing.co.uk
www.idiscreativemarketing.co.uk