ORNAMIN with its functional eating and drinking aids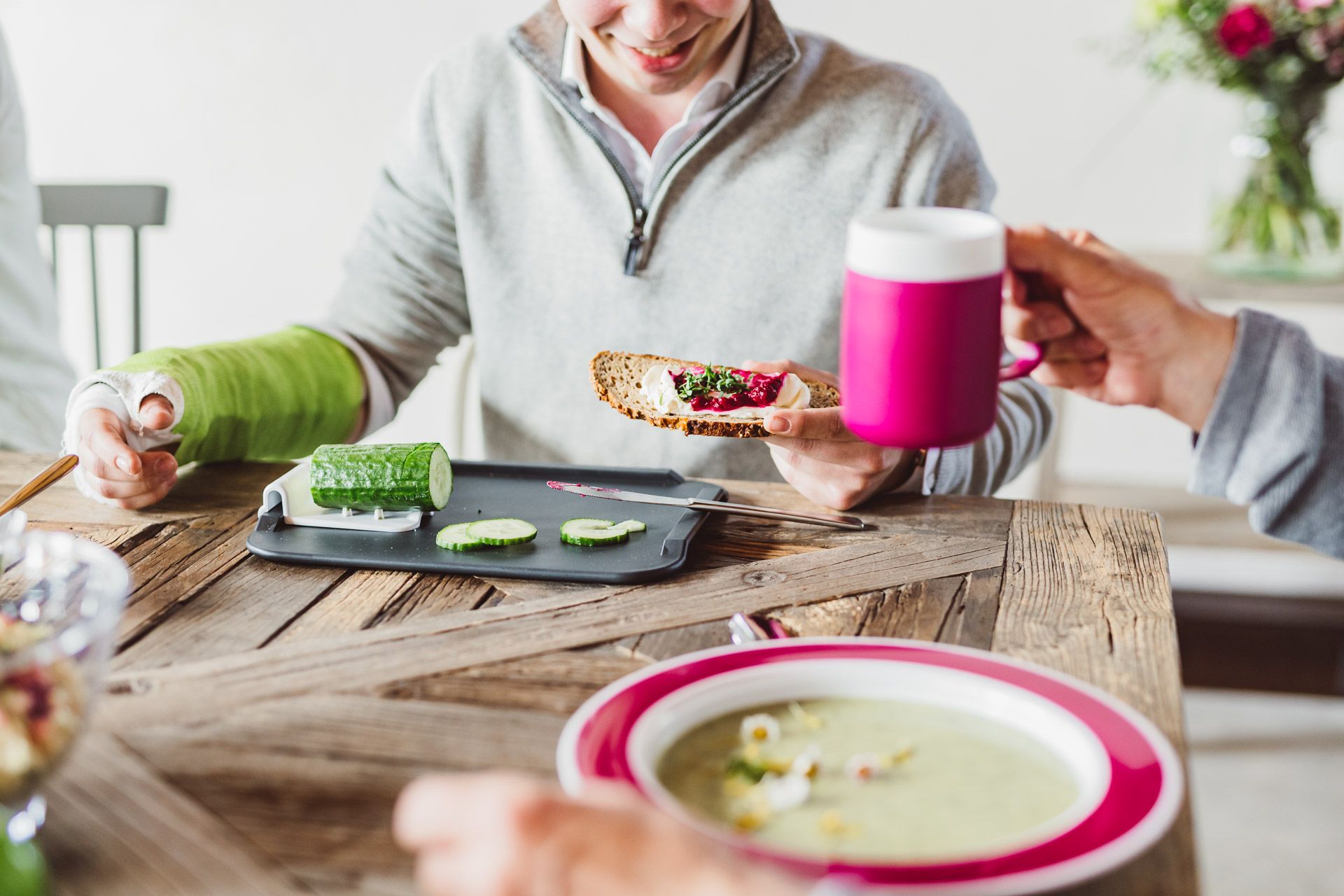 EVERYDAY HELPERS FOR CARE WITH HIDDEN FUNCTIONS To make everyday life easier, ORNAMIN has invented many eating and drinking aids to be safe and independent. These are tailored to the special needs of patients, carers in retirement homes, nursing homes and hospital staff. The ORNAMIN tableware has been developed together with people in need of care, occupational and speed therapists as well as professional carers. They are suitable for any illness, e.g. dementia, stroke, multiple sclerosis or Parkinson's disease and of course also for people with disabilities after an accident – they provide support where the body reaches its limits.
SMART DESIGN BRINGS EVERYONE TO THE TABLE

In care – no matter at home or t care home – usually one thing is particularly missing: time. Thus is often easier (=quicker) to take over daily tasks from a person in need of care – e.g. while eating and drinking. Thereby sometimes a little bit of support would be sufficient to encourage and maintain independence. The tableware by ORNAMIN is manufactured in Germany and offers useful hidden functions which support independent eating and drinking. Eating together is an important social event and one of life's simple daily pleasures – provided everyone can participate and enjoy their food. The award-winning tableware by ORNAMIN has been designed with style as well as function, removing any stigma or embarrassment about using adaptive crockery because its supportive features are hidden in its design.
Today, care with the help of spouted lids, plate guards and nose cut-out cups is very common. One big disadvantage of these classic care products, however, is that their special features clearly make them stand out as tableware for people with disabilities. In order to avoid this stigmatisation, ORNAMIN integrated supportive features cleverly hidden in its design.

With the ORNAMIN mugs with a specially designed inner cup, you can drink independently even if you cannot move your neck or lift your hand easily.

The ORNAMIN plates with sloped base are 3 products in 1 and replace plate guards, anti-slip mats and the plate itself. You only need one hand to use the eating aid.
CQC STANDARD
The serious consequences of malnutrition are for example increasing physical weakness or chewing and swallowing disorders. The aim of the CQC inspection is to determine, improve and back up the quality of care. ORNAMIN supports you in meeting and increasing the quality inspection guidelines of the CQC (KLOES) as tableware for care institutions is subject to special requirements.
Come to stand C20 and convince yourself of the quality and functionality of ORNAMIN tableware.