20 Aug 2019
IQ:timecard MOBILE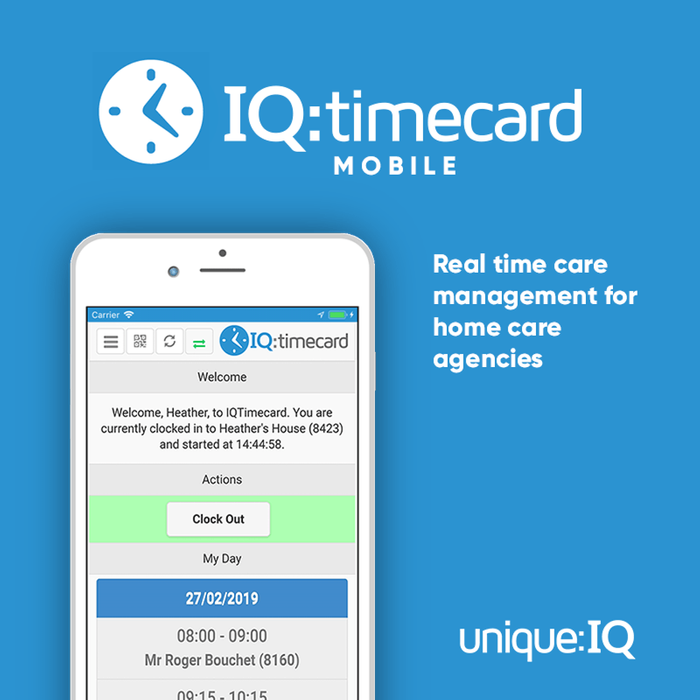 With Unique IQ's IQ:timecard mobile app, on-call care staff out in the field can quickly and easily communicate with office staff without the requirement of manual and paper-based procedures, allowing them to focus on providing the best service user experience possible.
Features include:
Automated clocking in and out - using a GPS lock, carers can clock in and out of a visit at the touch of a button, with a high degree of location accuracy.
Tasks and actions - before a carer arrives at a visit, you can set them a series of tasks via your IQ:careplanner and IQ:timecard account. These are pushed directly to the carer's mobile app, so they can access all tasks, medication and service user details whenever they need to.
Real-time alerts - the mobile app will automatically send alerts to care managers in the event of a carer not arriving for an appointment, arriving late or failing to clock out.
eMAR - MAR sheets can be completed directly via the mobile app, avoiding delays and handwriting errors, as well as triggering alerts in the event of medication being missed.
Digital care plans - service user care plans are available digitally on a carer's mobile app, pushed directly from your agency's IQ:careplanner/IQ:timecard account
Journey planning - calculate routes between appointments using Google or Apple maps