Syncurio - HR Module - Delivering Integrated HR Solutions for Streamlined Management and Quality Care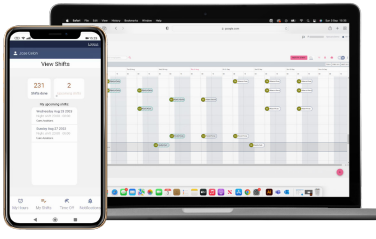 HR - Delivering Integrated HR Solutions for Streamlined Management and Quality Care
Syncurio's HR module is a comprehensive solution for streamlined employee management that takes the complexity out of HR tasks. We offer everything from a robust employee database to smart budgeting tools and easy-to-use drag-and-drop rostering. Our Employee Portal boosts communication and makes absence management simple. Plus, our secure clocking system and seamless payroll integration make sure everything runs like clockwork. With Syncurio, you're not just managing your workforce, you're streamlining it for accuracy and efficiency.
Key Features
Comprehensive Employee Database

Store and manage all your employees' data, past and present, in one centralised hub.
Easily handle VISA and right-to-work documentation.
Consolidate all employee files in a single, accessible location.

Intelligent Budget Tool

Craft budgets that help you maintain optimal staffing levels and control costs.

Drag-and-Drop Rostering

Employ a sleek, user-friendly interface for rostering with the convenience of drag-and-drop functionality.
Offer unallocated shifts directly to your employees.
Utilise templates to streamline setup and shift allocation.

Absence Management

Utilise the industry-standard Bradford Factor Tool to monitor and manage employee absences effectively.

Customisable Security Measures

Control access through multiple permission levels across various modules for added security.

Employee Portal

Empower your employees with access to rosters, absence management tools, and enhanced communication features, available on both mobile and desktop devices.

Seamless Payroll Integration

Generate importable output files that smoothly integrate with your existing payroll system.

Fobless Secure Electronic Clocking In/Out

Implement PIN and photo verification for a secure and efficient clocking process.