11 Oct 2023
Arquella - Connected Technology. Connected Care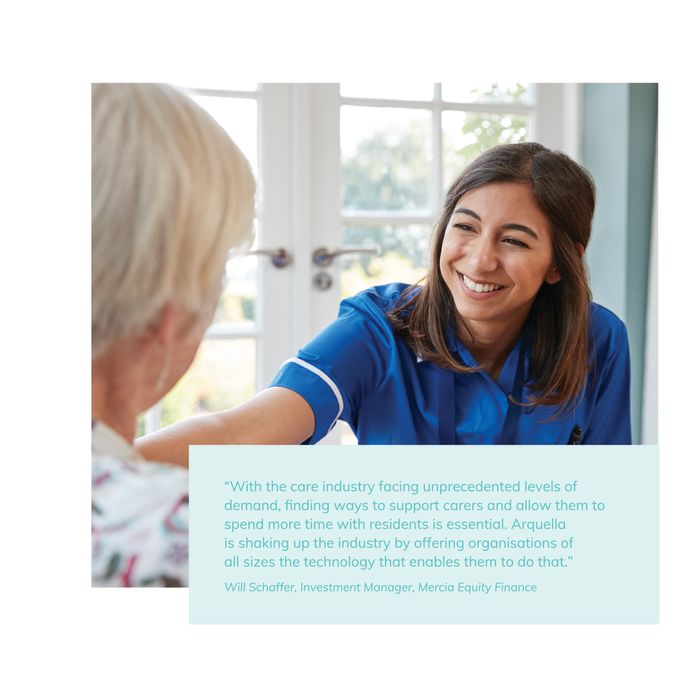 ARQUELLA, a leading care technology provider, offers solutions to enhance the quality of care in nursing and residential homes across the United Kingdom.
Arquella is passionate about making a difference in the quality of care provided to nursing and residential homes across the United Kingdom. Through the power of technology, we have developed cutting-edge solutions that are accessible and supportive, putting people at the forefront.
As part of a nationwide initiative driven by a £25m UK government funding pledge to enhance the quality of care and support individuals' independence, Arquella is proud to be at the forefront of the digital transformation in the care sector.

Falls in care homes are a significant concern in the UK, with residents three times more likely to fall than older people living in their own homes. Arquella's innovative solution, Arquella Sense, utilising sensor-based technology, and Arquella Call, a digital nurse call system, will improve reactive care and reduce risk. Arquella Sense uses discreet wall or ceiling-mounted sensors to monitor fall risk behaviour 24 hours daily, alerting carers via mobile handsets. The technology aims to intervene before falls occur, increasing safety and providing a cost-effective solution to cumbersome mats. Arquella Call is an app-based digital nurse call system that delivers in-depth digital records and future-proof functionality. It integrates seamlessly with other software applications, offering actionable data to help shape care delivery and adjust staffing levels.
Arquella is at the forefront of a digital transformation revolution in the care sector. Technology is more important than ever in providing insights and actionable data to inform decisions and improve lives.

For more information about Arquella's products and how they can benefit your care home, please call 0333 242 7505 or visit their website at www.arquella.co.uk
About Arquella
Arquella is a leading care technology provider committed to enhancing the quality of care and improving the dignity and quality of care for people who need support. With a focus on digital transformation, Arquella provides connected technology solutions designed to improve reactive, and deliver proactive, care across the UK.