19 Sep 2023
Introducing Artivis: Revolutionizing Homecare with AI-Driven Scheduling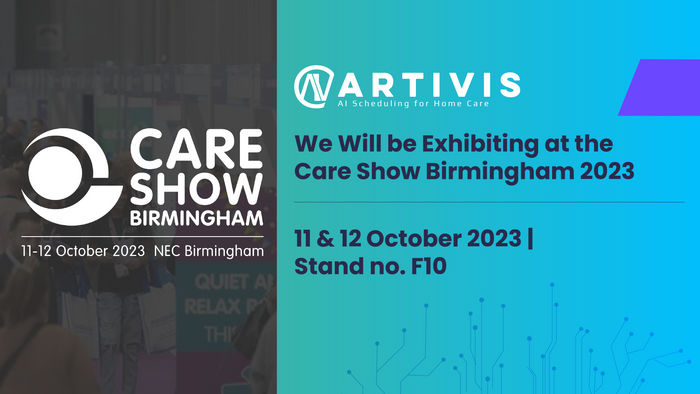 Artivis: Revolutionizing Homecare with AI at Care Show Birmingham 2023
LONDON, [18/09/2023] - Artivis, the UK's pioneering AI-driven homecare scheduler, is thrilled to announce its participation in the upcoming Care Show Birmingham 2023. With a mission to transform the homecare industry, Artivis offers fully automated scheduling solutions that ensure a high level of service even with a limited workforce.
Artivis stands out as a game-changer in the homecare sector. Its AI-powered coordinator promises up to 50% cost savings by reducing coordinator expenses and software costs. With embedded intelligence, the platform can perform a full-time coordinator's weekly tasks in just a few clicks, eliminating the need for domain knowledge or experience.
The AI-driven system is designed to enhance user satisfaction by accommodating their preferences, ensuring care worker-friendly rosters, and providing utmost flexibility. With Artivis, homecare agencies can experience increased productivity and reduced costs. Unlike traditional software that relies heavily on coordinator expertise, Artivis lets the AI coordinator handle all scheduling and change management tasks at lightning speed, guaranteeing optimal solutions and significant cost savings.
One of the standout features of Artivis is its ability to make faster, better, and error-free allocations. While human capacity for multi-constraint allocations is limited, Artivis harnesses the power of data and cloud computing to work 24/7, scheduling a week's worth of allocations almost instantly.
Furthermore, Artivis is committed to transforming businesses by minimizing travel time and expenses, guaranteeing efficient utilization of care workers, and offering the fastest rostering platform in the market. With its modern approach, Artivis breaks free from the traditional challenges faced by the homecare industry, such as operational disruptions, human errors, and tardy travel times.
Developed by homecare industry experts, Artivis is the UK's own homegrown solution. With guaranteed 24/7 uptime, it ensures round-the-clock operations, setting a new standard in the homecare industry.
For more information or to book a free consultation, visit: http://wp.artivis.co.uk/freeconsultation/
About Artivis:
Artivis is the UK's leading AI-driven homecare scheduler, dedicated to revolutionizing the homecare industry with innovative solutions. Developed by industry experts, the platform promises efficiency, cost savings, and optimal service delivery.
Contact:
Phone: 02036334372
Email: sales@artivis.co.uk
Website: http://wp.artivis.co.uk/freeconsultation/