12 Sep 2023
New Print Collection,Treehouse, gives a boutique feel to care spaces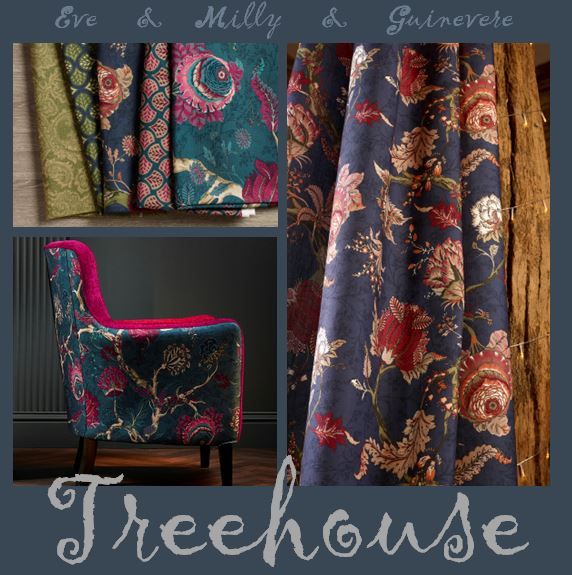 Printed designs for curtains, bed-throws or upholstery.
Treehouse, evokes a whimsical, enchanting mood in an uplifting colour palette of brights and elegant neutrals. Winding through an imaginary forest, the hero design, Eve, a detailed floral, works well with Skopos plain velvets and sateens and is complimented by the second design, a subtle paisley, Guinevere, introduced previously as one of anniversary prints. Finishing off the collection, Milly is a small graphic petal with a bold etched flavour, perfect for accessories.
Skopos is proud to lead the way in elegant textile design, providing interior finishing touches that make a statement.
The 3 designs can be used in various combinations and are offered on our wide choice of base-cloths, including upholstery velvets and antimicrobial fabrics for care alongside numerous drape qualities; blackout, dimout, linen-look etc. Treehouse provides a decorative option to suit all budgets.
Fabric is available on the roll or as part of our full-service offer; including measure, design advice, curtain, bedding and cushion make-up and installation.
Skopos have revisited pricing on their printed products to establish enhanced value across the core base-cloth offer. For further details please contact our sales team. All fabrics meets the requirements for Flame Retardancy standards across the UK and Europe. Available to order with short lead-times, Skopos are pleased to add this collection into their portfolio. For samples, please contact our customer service team: sales@skopos.co.uk, or visit our website: skoposfabrics.com.
Skopos has achieved recognition as a 'Carbon Neutral' organisation in 2023, in accordance with PAS2060, as part of our drive towards a more sustainable future. For further information, please visit our website: https://www.skoposfabrics.com/carbon-neutral.
https://youtu.be/PlaMWvwmKU8?si=C9Tz3bRSPdmXoMnl