22 Aug 2023
Teal provide cost-effective hygienic hand washing facilities for increased care home visitor numbers.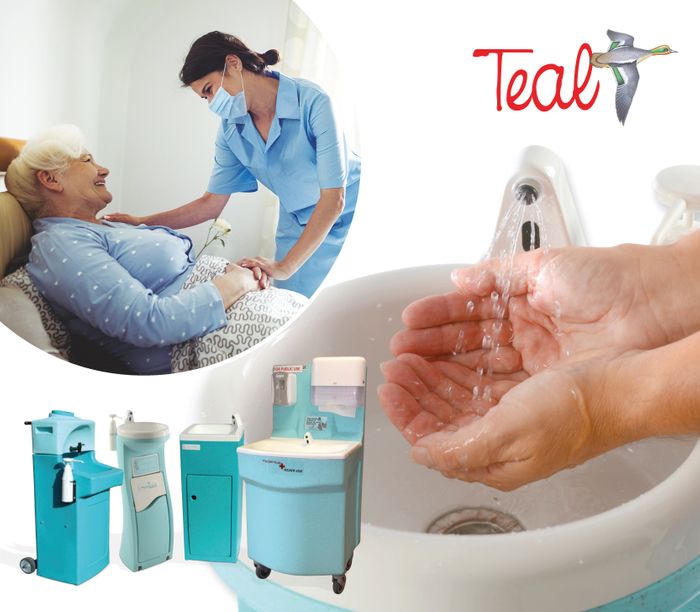 New visitor guidance for care homes could mean a review of hand hygiene safety and increase the demand for additional cost-effective hand washing facilities.
Guidance changes in place from 3 April 2023 as a COVID-19 supplement to the infection prevention and control resource for adult social could mean a review of existing infection control measures in place at care homes. This update with proposed new legislation states that that there should not be any restrictions on visits for individuals who are not symptomatic or who have not tested positive in any circumstance.
It is a positive move after the past COVID-19 restrictions, but it might increase the risk to residents and staff with increased number of visitors and the Summary of Changes does cover possible mask wearing and following IPC measures such as hand hygiene. This is specifically covered for care workers and staff under the Guidance: Infection prevention and control: quick guide for care workers published 31 March 2022.
The challenge is maintaining standards with increased visitor numbers.
The focus on infection control by the care homes has been a major focus and now looking ahead, with more visits, keeping this control will be vital to stop further infections from variants or from the usual challenges from influenza and norovirus.
To address this, it might be that care homes can follow the path of some NHS hospitals by adding additional portable hand washing facilities in reception areas and common meeting or corridor areas.
Chris Whieldon, sales director of Teal Patents Ltd, discusses how the use of portable sinks and basins has helped the NHS control infection outbreaks and support facilities maintenance." From the early days of the COVID-19 outbreak, effective hygienic hand washing has been at the core of infection control. We continue to supply NHS hospitals throughout the UK as they have recognised that the tactical use of portable sinks is now becoming accepted as a simple, and easy to use solution, to ensure hand washing is carried out by staff and by visitors."
The Teal range of portable sinks will be displayed at the Care Show
The sinks can be placed exactly where needed offering highly effective and hygienic hot water handwashing with running water no matter where they are. No plumbing is required so can be placed at an entrance or in a reception area specifically for the use of visitors.
OTHER INFORMATION
Teal Patents Ltd, specialise in designing and developing portable hot water sinks and basins and has been supplying them since 1959.
Teal's production facility is situated in the heart of England, with international air, road and rail links close at hand.
Currently Teal produces over 12,000 units per annum for every type of application. Their unique design and development facility means the introduction of new and innovative products for ever widening user requirements.
For more information contact:
Chris Whieldon, Sales Director
Teal Patents Ltd
Tel: 0121 770 0593
Email: chris@tealwash.com
www.tealwash.com
Media Contact:
Martyn Grayer, Director
GDA Ltd
Tel: 07931 350064
Email: martyn.grayer@gdaltd.co.uk