29 Aug 2023
Transforming Bathing Experiences: NHC Group's Height Adjustable and Fixed Height Assisted Baths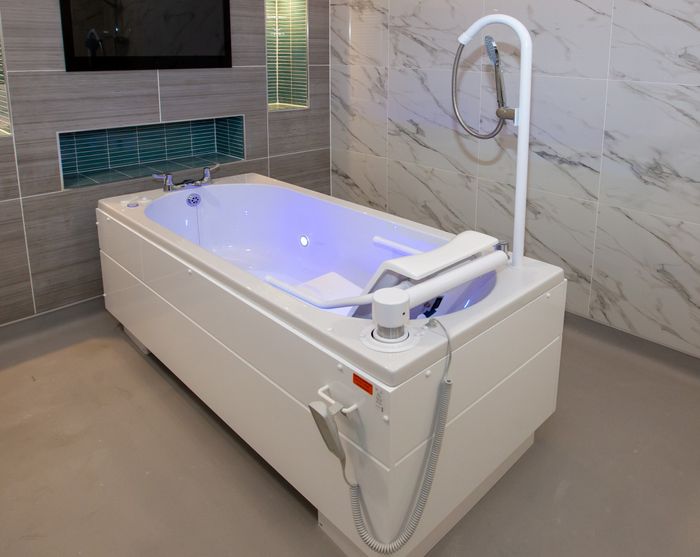 We are thrilled to share with you our Height Adjustable and Fixed Height Assisted Baths offerings.
Here at NHC Group, we have proudly built our reputation as a leading healthcare solutions provider over the course of two decades. Now, we're excited to present these baths that are set to transform the way residents and caregivers experience bathing in care home environments across the UK.
Comfort and Safety
At NHC Group, we believe that our new Height Adjustable and Fixed Height Assisted Baths aren't just products; they represent a commitment to enhancing quality of life. Our focus is on providing comfort, safety, and user satisfaction:
Adaptable Design: The Height Adjustable Assisted Bath features motorised height adjustment (720mm - 1020mm) mechanism, effortlessly setting the bath to the ideal position. Fixed Height Assisted Bath is designed for simplicity.
Temperature Control: Integrated Thermostatic Mixer Valve (TMV3) ensures a safe water temperature for resident comfort.
Hygienic Assurance: Crafted from Glass Reinforced Plastic (GRP) and acrylic materials to inhibit bacterial growth.
Seamless Control: Handheld control units empower caregivers to manage transfers and bath height effortlessly.
Ergonomic: Spacious, ergonomic design ensures effortless movement, while smooth surfaces and contoured edges simplify cleaning and maintenance.
Bespoke Options: Choose from standard sizes or opt for bespoke, including bariatric variations.
Lifting Capacity: Assisted baths provide secure lifting capacity of up to 130kg (21st), instilling confidence in caregivers.
Customisable: Optional extra to create a truly personalised experience for your residents.
Personalising the Experience with Optional Extras
We understand that personalisation is key. Our baths come with a range of optional extras that can transform the bathing routine into a spa-like indulgence. These extras enable you to craft an environment that aligns with the distinct preferences and requirements of your residents:
Chromotherapy LED Lights: Create a serene ambiance with a choice of 5 colours, promoting relaxation, comfort, and a sense of well-being.
Shepherds Crook Shower Assembly: Empower caregivers with flexible shower control without reaching over, ensuring convenience and comfort.
Bluetooth Sound System: Easily connects to any Bluetooth-enabled device, allowing caregivers to wirelessly stream music, podcasts, or audio content directly into the bathing area.
12 Jet Hydrotherapy Air Spa System: Seamlessly integrate this system for improved blood circulation, reduced muscle tension, and stress relief.
Overbath Stretcher: Enhance transfers and support during bathing, ensuring a smooth and comfortable experience for both caregivers and residents.
Knee Support Brace: Promotes comfort and stability by supporting leg position and minimising sliding within the bath.
This diverese range of optional extras allows care facilities to tailor the bathing experience, turning it into a truly luxurious ritual.
Additional Offerings
NHC Group's commitment extends beyond exceptional products. With ISO9001 certification and a team of fully qualified LOLER engineers, they offer a comprehensive suite of services:
Consultation: Dedicated account managers provide expert guidance, ensuring the perfect fit for care facilities.
Free Assisted Bath Surveys: Unlock insights with complimentary on-site surveys for seamless integration.
Free Assisted Bath Removal & Installation: In-house experts handle removal and installation at no extra cost, providing you with a seamless upgrade.
Swift Implementation: Benefit from quick lead times and complimentary delivery, facilitating smooth transitions.
Warranty: Both baths uphold a 5-year warranty, reflecting commitment to quality and longevity.
Quality, Craftsmanship, Care
With over 20 years of experience and ISO9001 certification, NHC Group stands as a cornerstone in healthcare solutions. Our pioneering approach enhances resident comfort, caregiver convenience, and overall care facility efficiency. For more details and to request a site survey, please visit us at https://www.nhcgroup.co.uk/assisted-baths.