14 Jun 2021
LifeVac Europe Limited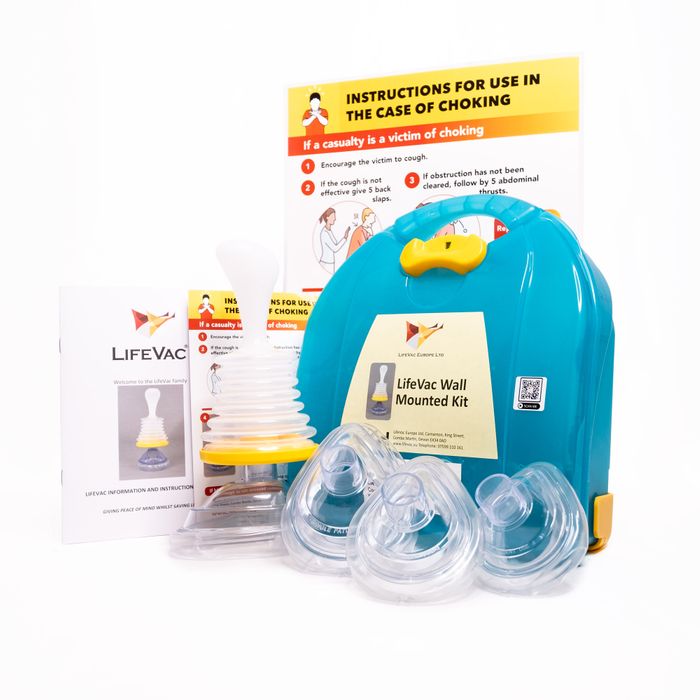 Choking remains one of the leading causes of accidental death in adults over the age of 65, find out how LifeVac Europe are making a positive impact in the UK care sector.
Choking remains one of the leading causes of accidental death in adults over the age of 65, with an average of two choking deaths every week within UK care homes. This is due to many reasons such as frailty, age, side effects of medications taken, physical disability and neurological diseases that cause Dysphagia. This is one of the main reason's why we invented the LifeVac ACD and why LifeVac Europe are making such a huge positive impact in the UK care sector.
LifeVac is a non-invasive portable airway clearance device with two sonic welded discs for interchangeable sized masks and a patented one-way valve system. This means when applied no air can be forced through the interchangeable sized masks, but when pulled generates over 326 mmHg of suction safely and effectively dislodging a full or partial airway obstruction.
We have had the pleasure of working with over 5,000 care and nursing homes across the UK from small independent care providers to the largest care provider in the UK HC-One. During this privileged time LifeVac has helped save over 152 lives in a choking emergency when all else has failed. Casualties have been standing, sitting (wheelchair users) and laying down. Airway obstructions have been full and partial ranging from yoghurt and sputum to meat and grapes. When a LifeVac is used we also replace them free of charge to help end users with cost, this can now be done via our new website which has a "report usage" section, dedicated training section and a more detailed section on choking within the care sector.
This year alone LifeVac has helped save lives within Hallmark Care Homes, Dovehaven, HC-One, FSHC, Priory Group, Exemplar Health Care, Sunrise Senior Living, St Heliers Residential Hotel, Runwood Homes and many more.
This month we have completed regional face training for Signature Care Homes, we have visited every individual beautiful purpose-built care home where every person received hands on training with LifeVac and one of our Choking Charlie Manikins. This was followed by our easy to access e-learning course which we made specifically for the UK care sector. This e-learning course covers choking prevention, how to recognise choking, different types of choking, case studies, LifeVac device overview, how and when to use your LifeVac, which is then followed by a passing grade competency test where every student receives a certificate.
With multiple peer reviewed medical publications on lives saved, independent testing and medical abstracts we are proud to say LifeVac is scientifically proven to be the safest, most effective and easiest to use airway clearance device in the world.
A recent crossover research trial was carried out in the medical school at the University of Warwick comparing LifeVac to Abdominal Thrusts, LifeVac to Dechoker and Dechoker to Abdominal Thrusts with 90 randomised participants, also testing usability. LifeVac dislodged the obstruction 99% of the time with 82% being dislodged in under a minute, Dechoker dislodged the obstruction 74% of the time with only 44% being dislodged in under a minute and abdominal thrusts dislodged the obstructions 71% of the time and 66% being dislodged in under a minute, LifeVac proved to be far superior and easier to use than Dechoker or abdominal thrusts. This was peer reviewed and published in Resuscitation Plus by Elsevier, which is also available via our website.