01 Jun 2021
New report shows COVID-19 pandemic fuelled huge digital acceleration in home care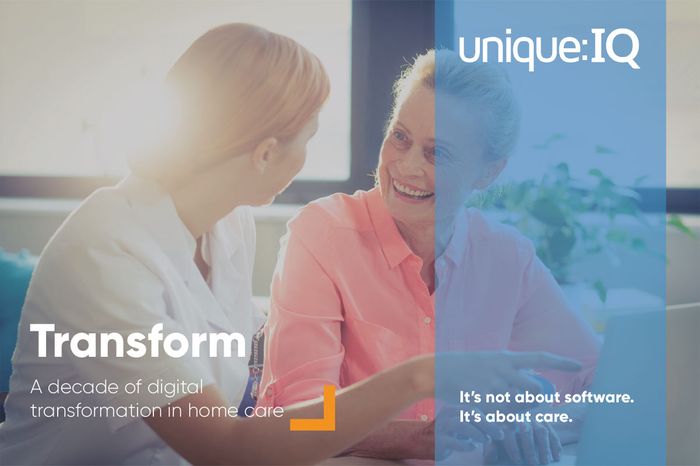 A new report by home care tech provider Unique IQ has revealed that the use of digital task management amongst their client base skyrocketed by 285% from start of 2020
'Transform: A decade of digital transformation in home care' examines a timeline of homecare over the last decade as well as the company's software user data from between 2016 – 2021, to reveal how digital technology was leveraged by home care providers to tackle the challenges faced during the Covid-19 pandemic.
With a customer base that largely consists of home care agencies primarily working within elderly care, the report explores more than 40 million anonymised records including numbers of clients, carers, visits, average visit durations, usage of medications, tasks, and digital forms.
David Lynes, CEO & Founder, Unique IQ said: "During the Coronavirus pandemic we saw the biggest acceleration in digital transformation that we've seen throughout the last decade."
"Our data shows that the use of digital tasks amongst our customer base skyrocketed at the start of the first lockdown. Between Q1 and Q2 2020, the number of tasks being processed by our systems jumped by an astounding 285%."
"What we saw care providers doing was using tasks to support infection control and promote safety for both clients and carers – by creating mandatory reminders for hand washing, symptom checking and sanitisation. In this way, carers were prompted to follow new health and safety protocols in a rapidly evolving set of circumstances, while businesses had evidence that safety guidance was being adhered to."
Following the initial state of emergency of the first lockdown, the data also showed a big uptake in the use of digital forms between Q2 and Q3 2020, as providers started to digitise things like risk assessment forms, care plans, and induction documents.
As well as the rapid acceleration of digital adoption during the pandemic, the data also showed that over the past five years:
Home care providers are attending 110% more visits.
Home care providers are diversifying their service offering, leading to a change in visit pattern durations, including an increase in longer visits with live-in care.
Unequal pace of growth, with care recipient numbers increasing by 26%, while the number of carers only increasing by 20%.
Download Unique IQ's free report 'Transform: A decade of digital transformation in home care'