26 Aug 2021
Free Government funded website and energy efficiency tool for care homes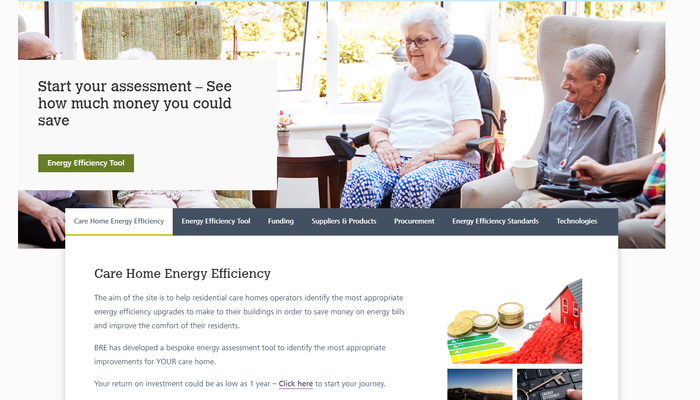 A new care home energy efficiency website and tool aims to support care home providers with identifying the most effective energy efficiency improvements for their buildings.
You will be able to find out:
Which energy efficiency improvements are most appropriate for your care home buildings
Ways to fund and procure these improvements via independent and impartial guidance
Where to find trusted suppliers and contractors
The current energy efficiency standards and regulations
This information can help you find ways to save money on your care home's energy bills by identifying the effective energy efficiency improvements for your building and finding available grants and incentives. This can also improve your residents' comfort and safety by providing more efficient heating systems, better insulation, and efficient daylight/movement sensing lighting systems.
Background info:
The Care Home Energy Efficiency | BRE Group has been commissioned by the government department of Business, Energy and Industrial Strategy (BEIS) with the aim to make it easier and quicker for care home providers to identify how to improve the energy efficiency of their buildings and to help them save money on their energy bills.
How does it work?
Step 1: Complete an energy assessment of your care home
Start by using the energy efficiency tool, input some simple information about your building to get a bespoke list of recommended improvements with the associated costs and savings of each. You can complete a simple assessment in just 5 minutes or a more detailed one in 15 minutes.
Step 2: Select the appropriate building measures
Your recommendations will be ordered by the quickest payback period. You can use your account to generate (and save) recommendations for one building or multiple buildings provided each building has less than sixty bedrooms. You can re-order your improvement measures and view them by installation cost, cost savings, energy savings or carbon savings, to suit your requirements.
Step 3: Use the website information pages
Once you have identified the appropriate building measures, you can then use the links to the website information pages to find information on technologies, funding, suppliers, procurement works and building regulations so you can plan your next steps.
The technical information will inform you about the different types of energy efficiency upgrades, such as a description of the technology, its benefits, how you might need to change your building to install it and the level of disruption that installation is likely to cause.
The Funding page will provide you with the latest information on specialised 'green funding' via loans, grants or feed-in-tariffs.
Suppliers and Products will help you find accredited and trusted experts and endorsed products.
Information on procurement will help you think about what to ask suppliers to find the most efficient route to installing the recommended measures. There are also links to the latest guidance and building regulations about energy efficiency standards.
Contact:
Lastly, if you have any feedback or questions on this FREE to use energy efficiency tool or website, please visit to fill in our feedback form or email us directly with your questions or recommended improvements.