26 Aug 2021
Workplace IT Technologies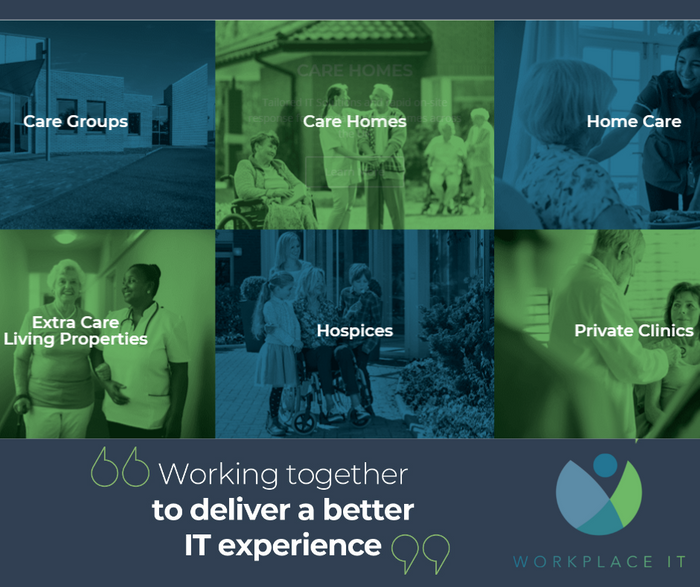 Workplace IT Technologies was created to provide IT outsourcing services to the Health Care Sector. Since inception we have grown extensively to become one of the leading specialists providing support throughout the UK to all aspects of the industry from Care Groups, Home Care, Special Needs Education Groups and Private Clinics through to Care Homes and Hospices.
Our team are based throughout the UK and supported from our two main hubs in Somerset and Norfolk. Being so well placed, our aim is to reach most locations within a maximum of four hours when on-site help is required.
Our clients tell us the reason they enjoy working with us is because we deeply understand the terminology and systems used in Health and Social Care, and the challenges the sector faces; which means we can provide tailored and effective solutions whilst continuing to offer a personal, face to face, relationship led, approach.
The combination of this relationship, together with our appreciation of how crucial IT and Telephony is to a Care organisation, is critical to reputation and success, and we are proud of our ability to deliver the right IT solution and IT service every time.
We support our clients in a multitude of ways from providing full Service Desk and On-Site IT Outsourcing Services, Specialist IT Solutions, Third Line Service Desk, 24/7 Remote Monitoring and Consulting / Business Productivity Services.
We predominantly work with Microsoft based solutions, using Core Microsoft Azure and Microsoft 365 services to support the underlying infrastructure and workplace, End Point Management to manage your IT environment and Cyber Security / compliance needs along with Microsoft applications such as SharePoint, Forms, Automate and Lists to help streamline and automate your business processes and workflows.
Our team will be at Stand E41 at the Care Show (NEC Birmingham) on the 13th and 14th of October 2021 and we would love to meet you there.
If you would like to talk to us before then about how we can help your organisation please visit our web site or call us on 0333 016 5090. We are more than happy to talk through some ideas over the telephone or visit you in person at your business anywhere in the UK.