01 Nov 2022
A Revolutionary Hand & Small Object Sanitizing System For Care Homes
EZISAN have invented a "NO TOUCH" sanitizer system in response the worldwide coronavirus pandemic and to improve general hygiene and assist the prevention from cross contamination.
EZISAN will help to improve the process and convenience of hand sanitizing, it also reduces contamination on mobile phones, keys, credit cards and other small household items, that can be passed through the sanitizing mist. EZISAN CAN ELIMINATE THE USE OF EXPENSIVE, MESSY AND MOSTLY IRRATATING GEL HAND SANITIZERS
The Problem:-There are many issues with using WET or gel sanitisers and upon entry to many buildings, you are met with various sanitising options, usually a gel or liquid dispenser, paper towels and a bin, this often gets "messy" and needs regular topping up, cleaning and tidying. This can also be a slip hazard.
Most Alcohol gel sanitizers are also known to irritate the skin, especially for regular users like NHS staff, care workers. Sufferers of eczema and other sensitive skin conditions are also well documented. The real financial cost to business and public venues are substantial, we also have to factor in the fact that staff have to maintain and replenish the current method, the man-hours wasted are a genuine cost.
The Solution:- EZISAN uses a "semi dry sanitizing spray mist" to help solve many of the problems, you simply place your hands into the mist, rub them together and turn them over, this will effectively sanitise the majority of bacteria, viruses and other germs. EZISAN converts approved and certified water-based sanitizers fluids into "semi-dry spray mist" and there is no waste. These fluids are also known to be gentle to the skin.
The key solution is that it is truly "NO TOUCH" unlike most other systems.
Environmentally friendly fluids and big savings on single use plastic bottles, we estimate Ezisan saves 85% single use bottles over Alcohol Gel and 69% in cost.
Designed and Manufactured in the UK with supply chain localised wherever possible, this will reduce our carbon footprint by minimising transportation. We intend to be carbon neutral by 2025.
Recyclable materials are used as much as possible, we also try to minimise plastic packaging and be environmentally aware of every aspect of the manufacturing process. See the advert below for further details.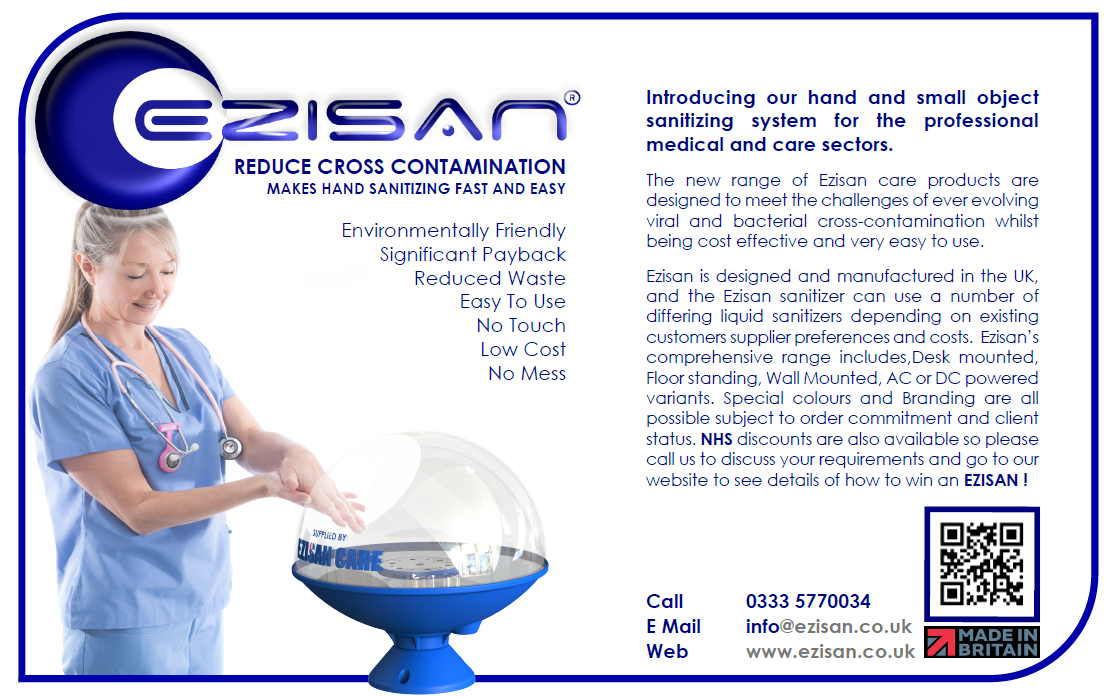 About EZISAN
Alcohol Free Sanitiser / Fine Spray Mist Sanitiser / Sustainable Sanitising Solution
EZISAN was formed in response to the worldwide coronavirus pandemic. Rob Searle and John Ellacott have been developing various hygiene products in recent years, as a team we have many years expertise in hygiene and sanitisation products using various technologies.
We have invented a unique "NON TOUCH" alcohol free hotel sanitiser system to improve hygiene and assist the prevention from cross contamination. The water based sanitiser fluids we use are very kind to the skin whilst very effective an fighting bacteria and enveloped viruses, including covid, monkey pox and flu.
From our manufacturing base in Devon we are a sustainable sanitising solution by aiming to be carbon neutral by 2024, by sourcing and manufacturing over 90% of our components locally we really are environmentally friendly. We also reduce the need for single use plastic bottles considerably.
We have 8 fine spray mist sanitiser models available in our range, we have floor standing, desk/worktop models and a wall mounted version. There is also the option of a single entry or dual entries for passing items through.
Visit www.ezisan.co.uk for more information