25 Jul 2023
Global Ageing Network Event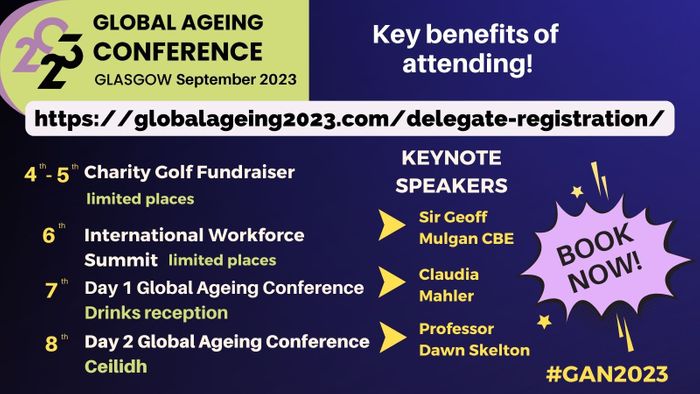 This September National Care Forum are looking forward to bringing together social care providers as we work together in global partnership to host the Global Ageing Conference and Social Care International Workforce Summit in Glasgow. These events will give you great networking opportunities and forward-looking programmes from around the world, alongside a strong representation from the UK perspective. The programme is packed with key learnings for you to implement sustainable innovations in your organisations. All of this is uniquely being delivered to you in the UK so we hope you'll join us and be part of these important discussions. You can register here: https://globalageing2023.com/delegate-registration/
Keynote speakers include:
Sir Geoff Mulgan CBE, Professor of Collective Intelligence, Public Policy and Social Innovation at University College London (UCL)
Claudia Mahler, UN Independent Expert on the human rights of older people
Professor Dawn Skelton of Glasgow Caledonian University
Taking place at the Scottish Event Campus on the banks of the Clyde on 7th and 8th September, at the Global Ageing Conference you will hear from a host of influential voices in adult social care bringing both UK and international perspectives to the care of older people and participate in your choice of collaborative workshops. Tickets are just £250+VAT per delegate for NCF/Scottish Care members and £300+Vat for non NCF/Scottish Care members.
The NCF leadership team will of course be in attendance and the themes we will explore together include human rights, music, the visual arts and creativity and models of care along with technology, changing management and leadership practices so the event is likely to align to many of your organisation's objectives. Headline sponsor, UK Research and Development (UKRI) will showcase research and innovation from across the UK as part of their Healthy Ageing Challenge which aims to drive improvements in the way we deliver care for an ageing population. George MacGinnis, Director of the UKRI Healthy Ageing Challenge will also take part in panel sessions discussing the case for reform in our sector. The need for collaboration and partnership throughout our sector as a route for making change and improvements in care will be a lasting message from the conference. Amongst the attendees will be researchers, care innovators and policy makers together with frontline managers, staff and people with lived experience of receiving care so together we have a real opportunity to shape the future of adult social care for all those who work within it and those who depend upon it.
The Social Care International Workforce Summit is being held at Glasgow's Clayton Hotel on 6th September and will set the scene for global collaboration and learning by focusing on worldwide workforce challenges. During this one-day summit we will discuss the trends at play and explore solutions to the big workforce issues common to care providers round the world. Tickets to this pivotal event can be booked here https://globalageing2023.com/workforce-summit/are £150+VAT per delegate and discounted to £100+VAT per delegate for NCF/Scottish Care members, and you will also get 25% off with a discount code you'll receive once you've booked your Global Ageing Conference ticket. We're delighted to be able to give you this added value so you can maximise your time in Glasgow.
If you have any questions about the Global Ageing Conference and would like to know more, please don't hesitate to contact me or any member of the NCF team.
For the shorter message to go out on social media, please use this:
The Global Ageing Conference is globally organised but locally hosted so it's the perfect opportunity for UK adult social care providers to learn innovative new approaches to create better care settings for those they look after and their staff. Taking place in the beautiful city of Glasgow from 7th to 8th September, it's the biggest event in the social care calendar and delegate places are going fast! Register now by visiting https://bit.ly/GAN_2023 #GAN2023 #ASC #socialcare