06 Jul 2023
Registration for the multi award-winning Care Show is now open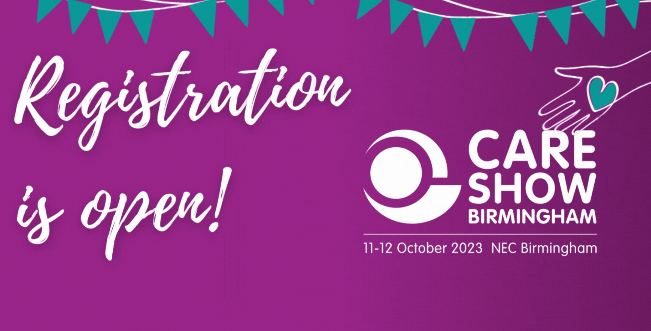 Registration for the Care Show, taking place at NEC Birmingham on 11-12 October, is now live.
Free-to-attend for care and healthcare professionals, the Care Show is the must-attend annual event for the entire care sector, bringing together professionals looking to connect with their community, gain new insights, exchange ideas, and revolutionise social care.
This year's conference programme will deliver key updates across social care and carefully curated content focusing on current issues and debates in the sector, including improving culture to help develop people and workforce, sharing best practice around care home design and improving environments for staff and residents, technology and digital evolution to help deliver a better level of care, guides to help your achieve an outstanding rating from CQC, tips to help the day-to-day running of your business and an exclusive workshop-style theatre for care managers.
Michael Corbett, Portfolio Director at CloserStill Media (organiser of the Care Show), said: "We are delighted to be back with a bigger show, which has been created with the care sector at mind. Working more closely with independent care providers and the large national chains, this year's Care Show is aimed towards those from line staff making a difference every day, to the owners, c-suite and Directors who are helping create a growing industry.
New for 2023, the Care Show will be co-located with Retirement Living Show, an event for professionals working to create independence for senior living, from raising finance, construction, business model, understanding legalities, and architecture to affordable living.
FREE tickets for all care and healthcare professionals are available here.
The Care Show was awarded "Best Trade Event over 2000sqm" in April at the Exhibition News Awards 2023, and Best UK Tradeshow 4,001sqm – 8,000 sqm in June at the AEO Excellence Awards 2023.
The organisers, CloserStill Media, specialise in global professional events within the healthcare and technology markets. The healthcare portfolio includes some of the UK's fastest growing and award-winning events, such as The Clinical Pharmacy Congress, The Dentistry Show, The Pharmacy Show, Best Practice and Acute & General Medicine.
It is a market leading innovator. With its teams and international events, it has won multiple awards, including Best Marketer – five times in succession – Best Trade Exhibition, Best Launch Exhibition, and Sunday Times Top 100 Companies to Work For – four years in series – among others.
CloserStill Media delivers unparalleled quality and relevant audiences for all its exhibitions, delivering NHS and private sector healthcare professionals from across occupational therapy, pharmacy, dentistry, primary and secondary care with more than £16m worth of free training.
For more information please contact –
Exhibition and speaker enquiries:
Michael Corbett – m.corbett@closerstillmedia.com
Marketing enquiries:
Heidi Rasanen – h.rasanen@closerstillmedia.com