21 Aug 2020
Miele Professional sets a fresh market standard with the release of new Little Giants Range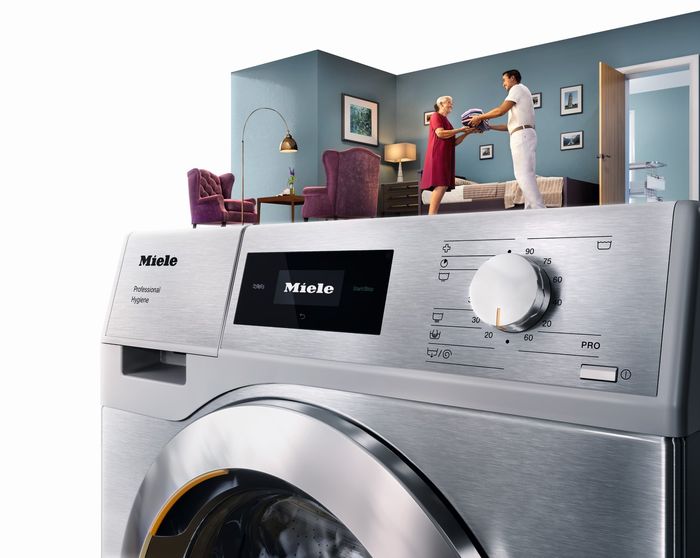 Miele's most environmentally friendly Little Giants range yet
Due to the speed capacity of washing cycles, the new range washing machines require 22% less water and 28% less energy. Reductions in cycle times on heat-pump dryers have been cut by one-third, to now less than 60 minutes. Whilst casing dimensions have remained unchanged, washing machines and tumble dryers now have a load capacity increased by 25%. The Performance washing machines have been given an A+++ energy efficiency rating, while the Performance heat-pump dryer has been awarded A++.
Quality cleaning and fabric care
Setting fresh standards in gentle fabric care, the new Little Giants washing machines include Miele's patented honeycomb drum, allowing textiles to glide gently on a thin film of water while additional perforations in the rear drum panel ensure even more thorough wetting. The new EcoSpeed wash rhythm reinforces this effect - slowing down the drum's speed, so that the scoop ribs can transport as much water as possible to the top of the drum which then rains down onto the load. Then, at higher speeds, water and particles are rinsed out with greater force, thoroughly washing even the most delicate of items.
Shorter cycle times with high performance
The new range comprises robust, commercial grade technology and high-performance washing and drying processes, with cycle times of only 49 mins for washing and 38 mins for drying. The new heat-pump dryer has outperformed its predecessor by one third, with a cycle time of less than 60 minutes, using 60% less energy than a standard condenser dryer.
Easy to use and highly convenient
The Little Giant's wide range of programmes and user interfaces are tailored to user requirements, with newly developed controls and text displays in up to 32 different languages, facilitating a variety of user profiles.
The M Select controls then permit programme selection via a rotary selector, giving access to further settings using the touch display. The M Flex Touch controls encompass a full touch colour display, offering a simple and intuitive user interface with a broad range of programmes. High-level operational safety and perfect textile care are both crucial for sectors in which hygiene and infection control are a key priority.
Installed as a washer-dryer stack on a footprint of less than 1m², Little Giants are the perfect solution for organisations operating compact on-premise laundry facilities.
The fast and powerful tumble dryers offer user convenience through their redesigned fluff filter that has a particularly large filtration area. This reduces the need for filter cleaning, freeing up valuable time and resources.
Fully informed and connected, anywhere, at any time
The new Little Giants from the Performance Plus series incorporate digital networking for efficiency and convenience. This is brought together through WiFiConn@ct, which allows the Miele appliance to connect to the internet via a WiFi router. Using the Miele@mobile app on a smartphone or tablet, users will be able to check status queries, receive notifications, such as the requirement to replenish the detergent, and place orders on the Miele online shop. The machines also feature the XKM module, enabling users to validate and monitor wash cycles.
Joint executive director and co-proprietor of the Miele Group, Dr Markus Miele, commented, "This is the most important launch for Miele Professional for many years. We are now more future-focused than ever before. The new connectivity of the Little Giant range means that we are ideally positioned to move into an increasingly digital world and adapt quickly to our customers' changing needs. This new range is part of our continual improvement and we call this 'immer besser', meaning 'forever better'. The new Little Giants are the best range yet on the market, with our focus still being on quality as the core value."
Sam Bailey, sales and marketing director for the Professional Division of Miele says, "The new Little Giant range with the PERFOMANCE and PERFORMACE PLUS washers and dryers offers the perfect laundry solutions for a range of sectors. Drawing on Miele's history of experience and innovation, we've been able to bring together benefits of time efficiency, connectivity, flexibility, and, of course, leading Miele Quality. Users can benefit from increased capacity, reduced downtime and better wash quality – all the features you'd expect from a Miele machine."
If you would like to find out more about the new Little Giants range, or enquire about a purchase, visit the website here.
About Miele's professional division:
The professional division of Miele is the world's leading manufacturer of commercial laundry and dishwashing appliances, as well as washer-disinfectors and sterilisers for use in medical and laboratory applications.
Designing and building every part of its products, Miele is recognised around the world for the manufacturing of quality appliances, founding its reputation by ensuring quality is delivered across each area of the organisation.
The Miele Company was founded in 1899 and is now in the fourth generation of family ownership. The company has eight production plants across Germany as well as one plant each in Austria, the Czech Republic, China and Romania.
For more information, please visit https://www.miele.co.uk/professional/index.htm
For media enquiries:
Please contact Becky McArdle at Skout PR: becky.mcardle@skoutpr.com or 07739 689 802