15 Oct 2020
New Train Station for Clacton on Sea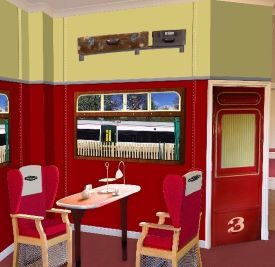 Ahead of World Mental Health Day on 10 October, charity Diagrama has announced its plans to turn an unused space into a vintage railway carriage to improve the wellbeing of its residents in its Edensor care home in Clacton on Sea. The train station will be used by residents' and their loved ones and eventually by the wider community for reminiscence therapy.
The COVID-19 pandemic has presented the home with many challenges. One of the biggest has been the need to restrict visits to prevent cross-infection. This has been upsetting and detrimental to the wellbeing of both relatives and residents, as well as member of the wider community who are involved in projects at the home.
David McGuire, Chief Executive, Diagrama, said "Our vision is to transform Edensor into a dementia-friendly environment that can benefit as many people in our community as possible. As part of this we plan to transform an unused second dining room, into 'Edensor Train Station'. The space will be restyled as a 1960s train carriage, with three vintage-style compartments enabling safe visits for up to three separate families at any one time. This reminiscence carriage will support those with memory loss by creating an environment from an era that they may well remember."
The train will have three large LED displays to mimic train 'windows', displaying a moving scene outside to replicate the scenery as the 'train' passes through countryside and towns. The retro fit decoration will encourage reminiscence therapy, which is well documented to reduce confusion, relieve stress, and improve wellbeing. This will support visitors both now and in the future in regular one to one, guided conversations and provide prompts to encourage dialogue - preserving memories and identity.
The long-term plans to improve wellbeing are to transform other areas around the home to provide multiple areas of interest depicting past eras, which reinforce reminiscence opportunities and ensure daily experiences are engaging.
Rodney Appleyard, Colchester Catalyst, said, "Colchester Catalyst was delighted to support this innovative project from Diagrama which will not only help the residents of the Edensor care home but the wider community in Clacton too. We know the problems with dementia and isolation are growing in this country all the time and the need to support these people through the pandemic is an urgent one. We hope this project will help to improve the well-being of many people with this illness, as well as their families."
Colchester Catalyst Charity has awarded the project £3,500 an amount matched by Diagrama, but the Edensor Train Station project still requires funding of £6,150. If you would like to help by offering Railwayana or items from the 1960's, including suitcases, to dress the station, or would like to make a donation please contact Julie.firth@digrama.org
The Edensor Train Station Project
The project has the potential to bring benefit annually to approximately 1,040 people (beyond Covid restrictions). This includes 300 residents, friends, family, and staff directly connected to the care centre, as well as a further 240 elderly visitors, volunteers, and domiciliary care workers, plus 500 children and staff from the neighbouring school community.
The total cost of the project is £13,150. Diagrama has committed £3,500 and Colchester Catalyst has awarded £3,500.

Reminiscence therapy
Reminiscence Therapy helps people connect to loved ones and to each other despite memory loss. It has been found to improve cognition which can induce a sense of well-being and belonging, decrease rates of depression and improve family and caregiver bonds. When someone has dementia, their family may feel lost. They may feel left behind because the person cannot remember them. It is common to feel cut off if a loved one cannot communicate well. Reminiscence therapy helps family members bond through discussing the past and can uncover memories not shared before. It stimulates a part of the brain that deals in long-term memory and helps stimulate those memories through sensory organs. This can impact emotions and behaviour and improve engagement.
About The Diagrama Foundation
Diagrama is a charity which supports vulnerable people through residential care, adoption and fostering across the south east of England. The foundation has three small care homes for adults with learning disabilities, a 48-bed care home for elderly with nursing and dementia needs and two homes for vulnerable young people.
Many vulnerable people live a joyless existence without hope and without a true identity or understanding of what it is possible to achieve in life.
At Diagrama, we know that when someone has time and belief invested in them they come alive, because that investment in them has made them feel valued and worthy.
By making the effort to discover the real individual within you can build trust and unlock their hidden potential, igniting a renewed sense of hope and ambition for their life otherwise lost.
Diagrama's dedicated team provides person-centred, solution-focused services for vulnerable children and adults, because everyone deserves the chance to live their best life possible.
For more information, to arrange interviews or to request images please contact
Christina Bowden
Bowden PR
07984 433614