02 Oct 2020
Pain & Dementia: Common Challenges for Care Managers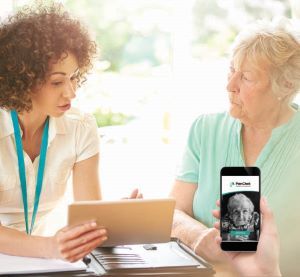 As a care manager, ensuring your residents' pain is assessed effectively is critical to providing adequate overall care. Effective pain management can only be achieved if the right pain assessments tools are used. This is a challenging subject at the best of times but combine this with the impaired communicative abilities of someone living with moderate to severe dementia, it becomes almost impossible. Throughout this whitepaper, the relationship between pain and dementia is discussed to understand why assessing pain is such a challenge but also why it is important. It looks at historic and current pain assessment tools to identify the development of digital health technologies to support the ever-digitising aged care sector. In this regard, it focusses on exploring PainChek® - the world's first pain assessment tool for people with dementia that uses Artificial Intelligence (AI) to assess microfacial features of pain. These features are then digitally combined with other non-facial cues such as behaviours, vocalisations, and movements to calculate a pain severity score.
Understanding the relationship between pain & dementia is complex and poses a challenge to care managers daily. This paper sets out to discuss the main issues with assessing pain for those living with dementia and how these can be overcome.
"The ability to assess pain for those living with dementia is fundamental to the provision of high-quality care. Research highlighted in this paper shows that to date there have been challenges, particularly for those using paper-based system, about how possible it has been to record and gather data on pain assessments, and to use these actively in the management of pain.
However, the paper helpfully outlines the role that digital technology can have going forward. It advocates the harnessing of the power of digital to eliminate some of the inconsistencies that have existed in the recording of pain, which once addressed enables the facilitation of proper pain management techniques for people living with dementia."- Vic Rayner, Executive Director, National Care Forum.