06 Nov 2020
Access 21 turns 21 years old next month!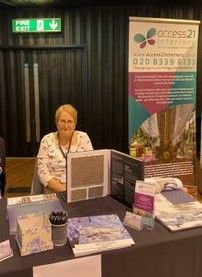 When starting the company in 1999 it made sense to stay in the sector where we had gained extensive experience over many years of employment designing and procuring for care.
The last 21 years have been fun working with owners, staff and residents of various care/nursing homes, day centres and housing associations across the country, and the various challenges that each project has brought, and we equally look forward to the next 21 years. Each project has been unique, as clients have been able to choose from a menu of services including interior design, furniture, curtains, flooring, artwork, towels, bedding and tableware with project management and fit-out where required.
Positive testimonials from clients have commented on our helpful attitude, ability to listen and match the brief and all round flexibility.
We would like to thank all clients, suppliers, contractors and staff who have worked with us, both past and present, and who have ultimately contributed to our success.
COVID-19 has halted our plans for a big gathering, but staff are getting together for a Champagne Afternoon Tea in the luxurious surroundings of Warren House, Kingston.
As a thank you to our clients, we are offering a further 2.5% discount for any order placed between 1st November and 31st December 2020