06 Nov 2020
Access will be exhibiting at the Virtual Care Festival this month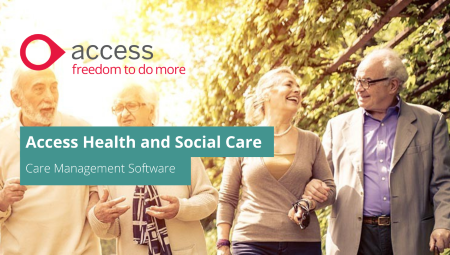 Embracing these virtual times, Access are pleased to be exhibiting at the Virtual Care Festival this month. We are looking forward to showcasing what is new with Access and virtually connecting with care providers again!
Here at Access, we strive to ease the burden on care providers by making their day to day tasks simplified, giving them back the time that they can put to better use with the people they care for.
Access offers solutions for:
Scheduling & Rostering
Staffing and business management
Medication Management, eMAR, Pharmacy and stock control
Auditing, quality management and governance
Care Planning
Safe visitor management
eLearning and training
So, here is what to expect from us on the 25th and 26th November at the Virtual Care Festival
New to the Domiciliary care market and completely unique, Access Workspace for Care is designed to place everything you need in one place and helps you manage your services, resources and observe progress to make sure you continue to deliver outstanding care. Accessed with just one single sign-on, Access Workspace for Care is a powerful tool that connects our Access care suite and extended Access Group systems into one, allowing you to make real time decisions that benefit your care provision. We also have recently launched Access Collins for Care which enables a care home to manage visitors and video calls in line with the government guidelines. We have had great feedback from our customers including heart-warming stories of how it is reconnected residents with their families improving their happiness and tackling loneliness.
There will be lots of information you can download on all our products as well as the opportunity to chat with our sales team who can assess your care organisations needs and recommend a great digital solution.
If you are already an Access customer, there is plenty for you too! You can connect with our account managers and benefit from our new solutions!
Don't forget to pop along to the keynote theatre where we also have a great webinar discussing how Access Care Compliance can help you achieve/maintain an outstanding regulatory rating.
We look forward to welcoming you at our virtual stand but if you can't wait until then, you can contact us HERE.