06 Nov 2020
Quality Compliance Systems welcomes Jackie Pool as Dementia Care Champion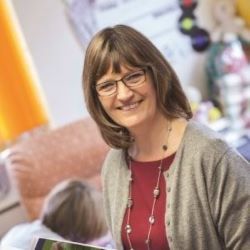 As Dementia Care Champion, Jackie will play an integral role in helping QCS to create a progressive best practice dementia strategy for Health and Social Care Providers. Central to this vision will be the ground-breaking work that QCS and Jackie will do together. This will see QCS fully support Jackie to further advance her trailblazing PAL Instrument, which QCS has also acquired.
As a leading dementia specialist, Jackie, who is the creator of the Pool Activity Level (PAL) Instrument - a reliable and valid tool which assesses cognitive ability and profiles how to support the individual - has accrued nearly 40-years' experience working in frontline dementia care.
Mat Whittingham QCS's CEO and Co-Founder said "We're delighted and honoured to welcome Jackie to the QCS team. Jackie is one of the UK's leading experts in developing real-world strategies that can make a profound difference to people living with dementia. As the UK's leading provider of care guidance and compliance content, our ambition is to help Jackie to take her research to new heights, and to use QCS's extensive reach to make the PAL framework accessible to as many professionals as possible. This is another example of our goal to help care providers go beyond regulatory standards to provide the best possible care."
Jackie added, "I'm incredibly excited to be joining QCS. Having dedicated all of my career to trying to improve the lives of those living with dementia, QCS has given me a once in a lifetime opportunity to further develop the PAL framework. With at least 70 percent of UK care home residents living with some form of dementia, or presenting with other cognitive difficulties, I believe that together we will help a greater number of care providers to deliver even more effective care and support to those who need it most. I'm looking forward to getting started.
Note to editors
About QCS
Quality Compliance System (QCS) provides a high-quality, bespoke Care Quality Commission management service for Adult Social Care providers, Dentists and GPs. Across the social care sector, QCS is widely trusted and respected brand which is specifically designed to conform to the CQC Fundamental Standards set out by the CQC. To find out more about QCS, call 0333-405-33 33 or email sales@qcs.co.uk.
If you require more information, please contact James Gordon on 07870-498-703 or Jessica Vella-Bone on 07861-952-222.