06 Nov 2020
The Care Show & OT Show have teamed up to bring you… The Virtual Care Festival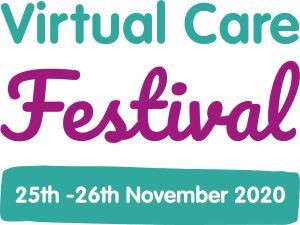 In a time where face-to-face learning for health and care professionals is restricted, there still needs to be a space where professionals can network, learn and explore the latest innovations in the industry. The Virtual Care Festival is a place where care professionals can do this with ease. Today, audiences expect more. Not death by PowerPoint or disruptive phone calls, but a tangible online experience that is human, interactive, and engaging.
The Virtual Care Festival 2020 will run on 25th and 26th November. The event will be the largest digital gathering of care professionals and decision-makers working in social and private care both domiciliary and residential in the UK.
At the beginning of August, The Care Show conducted a survey to over 22,000 care professionals to find out what could be done to help with their continued learning and development in the absence of face-to-face events. Out of those 22,000, a stunning 84% said they were actively seeking some form of online engagement to fill the gap.
To fulfil the needs of our care community, we have designed the Virtual Care Festival. Although the live event can't go ahead this year, we wanted to organise an event that was safe for our community of care professionals. We understand that a great deal of our visitors work hard to support and improve the lives of vulnerable people, therefore, we felt it irresponsible to try and run a live event in 2020.
How will it look?
The Virtual Care Festival will run like an actual event but from the comfort, safety and convenience of your own house or office. Although physical events are not running this year, we wanted to provide an experience just as exciting and insightful. Just like a conference centre, you'll be able to move around and talk to your colleagues like you would at any face-to-face event. This virtual space is split up into 4 areas for easy navigation.
The Entrance Lobby - this is where the journey starts with easy navigation to all the theatres, exhibition hall, and a help desk for advice.
Exhibition Hall – Where you can explore the latest brands, technologies and engage with the exhibitors. This virtual space allows you to have face-to-face conversations with the best companies in the industry. Visitors can explore over 50 interactive leading suppliers showcasing different products and services for all organisation requirements, including; Access UK, Arjo, CareLineLive, CoolCare, Opera Care, Recrutive, Sumed, Vileda Professional, My Learning Cloud Limited, Essex County Council, AKW, Closomat, Hill-Rom, Accora Limited, OSKA, CareLineLive, Medequip and Opera Care.
The platform also allows arrange meetings with exhibitors via chat windows and video conferencing tools. As they are the leaders in their field and have been particularly vital to the industry during the pandemic, there will be plenty to engage with over the course of the two days.
Networking Lounge - Networking opportunities with peers and a chance to discover valuable new acquaintances. A place to meet attendees, speakers, and other exhibitors.
The Theatres - Where the learning takes place. 5 theatres with world-renowned speakers to gain over 60 hrs of CPD engagement.
Speakers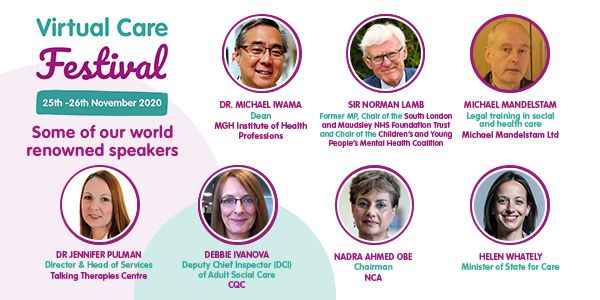 To provide an event that will benefit the education and learning of our community we have talks from some of the top names in the industry, some of which have provided excellent presentations at our live events in the past.
Among these are Debbie Ivanova, Deputy Chief Inspector (DCI) of Adult Social Care at CQC, Nadra Ahmed OBE, Chairman of NCA, Helen Whately, Minister of State for Care, Dr. Michael Iwama, Dean at MGH Institute of Health Professions, Rt Hon Sir Norman Lamb, Former MP, Chair of the South London and Maudsley NHS Foundation Trust and Chair of the Children's and Young People's Mental Health Coalition and Michael Mandelstam, Legal training in social and health care at Michael Mandelstam Ltd,
The Virtual Care Festival will take place on Wednesday 25th and Thursday 26th November 2020 between 09:00 – 17:00. Information on joining the event will be made available upon registering via email.
To register you interest, go to – https://www.careshow.co.uk/novbulletin