Oxfordshire care home unveils new visitors centre to continue to keep Covid-secure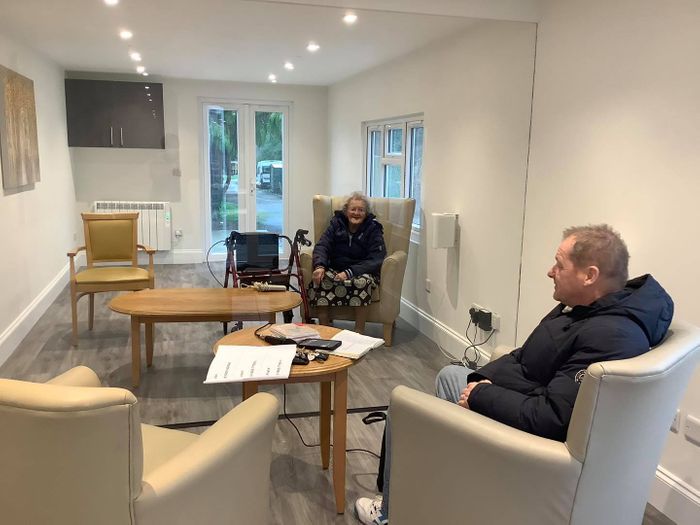 A CQC Outstanding care home in Oxfordshire has introduced a new purpose-built visitor centre, to allow families and friends to visit their loved ones this winter, as the Covid-19 pandemic continues.
The newly created space at Churchfields Care Home, based in Cassington, will enable families to stay connected in a safe, warm and welcoming environment. The room includes an airtight, toughened glass screen, as well as an air purifier, surround sound system, and WIFI connection, to enable other family members to also link in virtually, at the same time.
The warm and welcoming visitor centre features a ramp to allow easy access, and visitors will enter and exit the room through a different door from staff and residents, to minimise the risk of infection.
Churchfields are also among the first in the country to install Hydroxyl generators, which is an air purifier that sterilises the room, providing real time protection against airborne allergens, pollutants, and viruses.
Alongside full deep cleans the use of the generators in between visits, will add an extra level of safety, to help ensure all visits remain COVID-19 secure.
Jane Roberts, owner of Churchfields Care Home commented: "I'm delighted that we have been able to introduce the Visitors Centre, to allow our residents to see their family and friends, in a safe and secure environment. Our families, and the local community, play a huge part in daily life at Churchfields, and it is wonderful to be able to reconnect again.
We are all excited about the possibility of a COVID-19 vaccine coming next year, but realistically, it will still take several months for the country to return to a degree of normality. In the interim, this purpose-built facility, will keep our families connected in a lovely setting, over the winter months."
Churchfields have also been using Cellmark, a local Laboratory, to carry out all their weekly surveillance testing. This has enabled the home to receive COVID-19 test results within 24 hours, rather than the usual 5-7 days. This service will continue in the home, alongside the use of Roche Rapid Testing kits, to provide a multidimensional approach to keep the residents safe, well, and connected to family members.
Churchfields Care Home is set in the peaceful village of Cassington and offers residential, nursing and dementia care. The home is pleased to be welcoming new residents, and has all procedures in place to allow this to happen safely.
To find out more about Churchfields, call 01865 881440 or visit www.churchfieldscarehome.co.uk.