The Access Care Provider Hub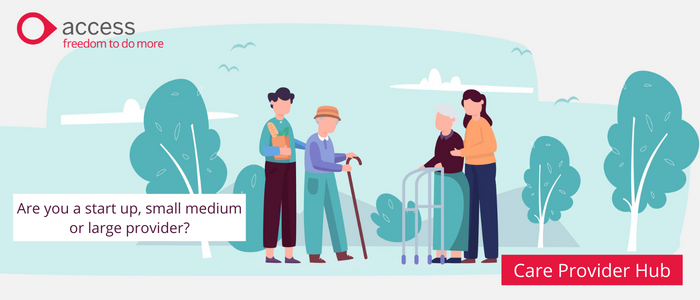 Access Health and Social care are pleased to launch the new Care Provider Hub. Designed and put together for care providers of all sizes. The care provider hub is your source of advice and guidance from experts and those with a wealth of knowledge in the care sector.
For smaller care providers or start-ups, you are perhaps looking for help with registering your care provider, increase stability, strengthen your service, and make improvements. You may need guidance on regulation, inspections, recruitment, medication management, care planning etc. Our hub has useful content written with expert knowledge on these topics. The hub has a key focus on how Access software can help ease the pressures on care providers as well as setting the value of what our software does.
For a care provider with 700+ carers or 3-15 residential homes, the hub focuses on those day to day challenges that offer real opportunity for development. You may be looking for guidance on improving the efficiency and sustainability of your care business to aid growth and expansion without hindering the quality of care. Here, we focus attention on staff retention and training as well as investment in growth, getting the most from your resources and provide insights into other care providers to see how you rank and how Access care management software can help you achieve your goals.
Finally, for large care providers with several franchises, this area of the hub focuses on digital transformation to automate processes to make caring for high volumes of clients effective, mitigating errors whilst maintaining quality. For large care providers, the focus here is providing full performance coverage in one place, giving total visibility.
The Care Provider Hub is a free resource that will feature new guidance regularly, giving care providers the right tools to achieve their goals and delivering outstanding care.