Well Pharmacy offers outstanding integrated care by partnering with MED e-care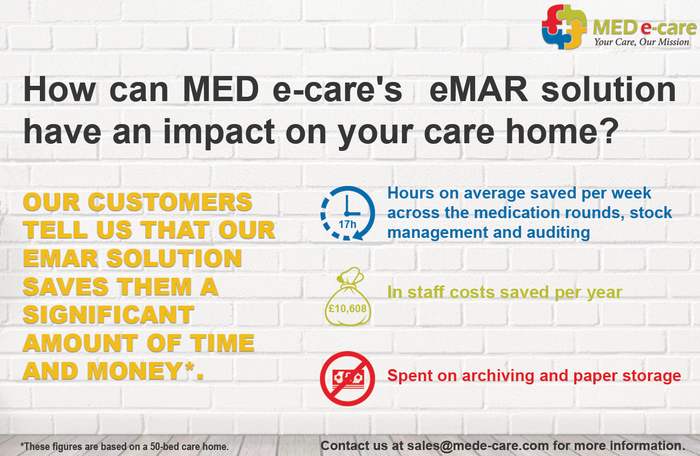 National pharmacy chain, Well, is delighted to announce a partnership with MED e-care to drive further efficiencies alongside the highest standards of pharmaceutical administration for those in residential care.
Over the last three years, the Well Care Home team has invested in technology, systems and service, in order to build strong foundations and deliver outstanding patient care, quality, and safety, to more than 350 care homes up and down the country.
And now, today's announcement of the new partnership with MED e-care means that Well will be expanding its service to many more care homes across the UK.
As care homes increasingly opt to switch from paper-based records to electronic medicines administration record (eMAR) systems, MED e-care's innovative technology solution manages and monitors medicine usage, allowing care home managers and colleagues to redirect time from medicine associated tasks, to what matters most - person-centred care on the frontline.

In order to support care homes during the COVID-19 pandemic, the team at MED e-care has moved to a remote implementation model.
The Top 5 benefits of using MED e-care's eMAR solution:
Improves resident safety and compliance.
Saves time and simplifies medication management and administration.
Fully integrates with Care Planning.
Quick and simple auditing to ensure adherence to procedures.
Building Safeguarding best practice to demonstrate to regulating bodies.
Nigel Swift, Operations Director for Well Pharmacy, believes that the partnership can add real value to the support and development of teams within each care home. He says:
"MED e-care is widely respected across the sector and we see this relationship as key in our planned expansion of our care home service to new and existing customers. The partnership means Well is ideally placed to provide an integrated approach to improving standards of care and safety for residents in care homes across the UK. We remain passionate about delivering continued excellence and service enhancement to our customers and this is an important step in our care home journey".
Chris Pearson, Head of Care Partnerships at MED e-care said:
"We are delighted to be working with Well Pharmacy to provide their care home customers with our eMAR (electronic Medication Administration Record) solution. We are looking forward to our joint customers being able to benefit immensely from our new partnership.
"Care providers across the UK using the MED e-care eMAR solution are realising the benefits of reducing risks, saving valuable staff time and improving the quality of care that their residents receive"
For more information, about Well Pharmacy's Care Home Service please contact carehomes@well.co.uk
For more information, please contact PR@well.co.uk

WELL
Well have been offering pharmacy services for over 70 years to communities across the UK.
We're the third largest pharmacy in the UK, employing nearly 7,000 people and providing over 72million prescriptions each year across our 750 pharmacies. Our pharmacists can provide advice on getting the best from medicines and general healthcare, as well as treating minor ailments and offering a range of health and wellbeing products – all without having to make an appointment.
In addition to our pharmacies, we give customers choice, with our online service for those who want the convenience of having their repeat prescriptions delivered direct to their home – available online or as an Apple (IOS) or Android app.
We also offer a range of healthcare items for sale via our online pharmacy: shop.well.co.uk Items are available for home delivery with a one off £4 delivery charge.
Our Bestway Medhub subsidiary provides a wholesaling service for independent pharmacies, and our Wardles subsidiary provides non-medicines (eg, medical consumables such as bandages and dressings).
The Well operation is supported by our Healthcare Service Centre in Stoke-on-Trent, sending out around 90 million stock items to our pharmacies each year. This semi-automated warehouse and distribution centre allows us to use a hub-and-spoke model for prescriptions. This means some items are assembled centrally and sent to pharmacies to handout out to their patients.