31 Mar 2021
New report finds that 60% of home care providers save 30 hours a month with technology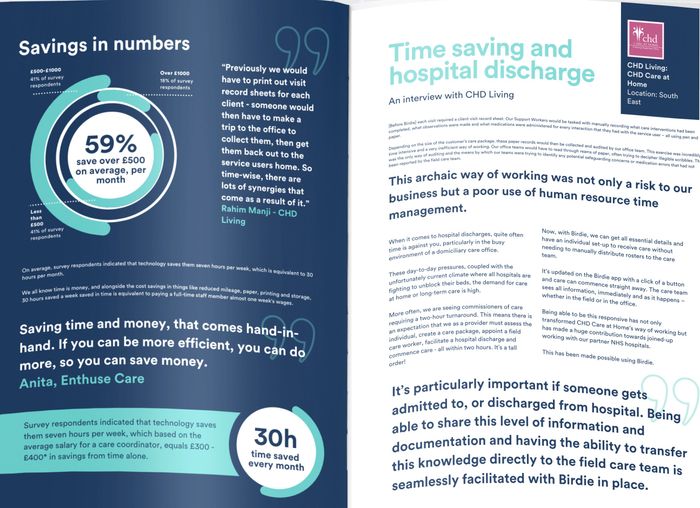 Birdie's State of Tech report explains how technology enables providers to prepare for the road ahead. Combining survey results with in-depth research and case studies, it explores the state of tech today and how we can improve tomorrow.
It's been a challenging 12 months, and the care industry is undergoing significant change. The sector has rapidly increased digital adoption, and this brand new report showcases how these new technologies are having a real, positive impact on care businesses today.
Birdie's brand new report takes a reflective look at how technology enables providers to prepare for the road ahead. From fighting today's inefficiencies to building the foundations for the next generation of care, the report will equip you with practical guidance to tackle 2021 and beyond.
Download the report to understand industry benchmarks, success stories and steps to becoming a more productive homecare agency. You'll learn:
• The current state of the care industry
• How to make the most significant savings in efficiency and cost
• Real success stories from agencies who are shaping the future of care
• The roadmap for your productivity: Understand at what stage of your digital journey you are, how can you level up and how Birdie can help you.
Download the report here
Key report findings:
• 89% of care businesses are using technology to improve their efficiency, profit margins and quality of care.
• An average of 67 medication errors a week are being caught using Birdie's eMAR solution, but only 47% of business are using this technology.
• 33% of home care businesses believe that they do not have the time to implement a technology solution.
• 60% of those using technology believe it saves over 7 hours a week on average once they are up and running.
• Almost 20% of business implemented new care technology in the past year (as a result of COVID-19)
• 34% of respondents use technology to enable remote working.
• On average, care business save between £6,000 - £12,000 a year by using technology
• 34% of new care business are digital native, having started their business with technology.
About Birdie:
Birdie is an agetech startup on a mission to reinvent the way we age. Birdie was founded to radically improve millions of older adults' lives by providing partnership and digital tools that put preventative care at the forefront. With a growing network of home care partners, numerous accolades, including B Corp certification, Birdie is shaping a new kind of corporation that takes responsibility for our communities and our environment.
Website: birdie.care
If you would like more information about this report, please contact marketing@birdie.care.