19 May 2021
Completing the Circle of Care: How technology is connecting families and carers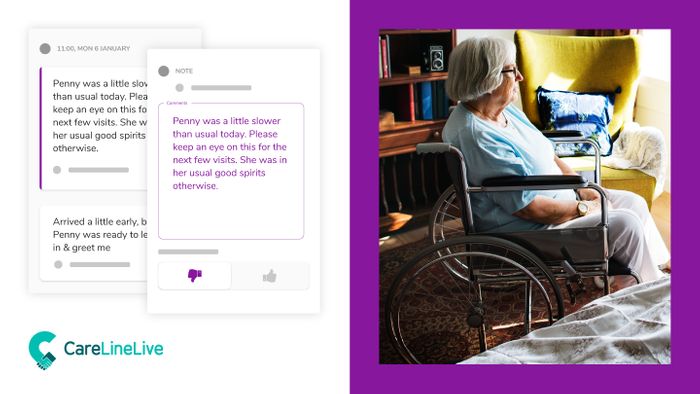 When we consider the provision of home care, elderly and vulnerable clients are first and foremost in our minds. However, families, friends, managers, and carers are all part of the wider community that are stakeholders in the caregiving. Together, the stakeholders form a 'Circle of Care'. For home care to work effectively, everyone in the Circle of Care needs to know relevant information about the client at the right time to benefit the person at the centre of the care. Technology – in particular, cloud-based software platforms with mobile applications – provides the solution to this challenge.

Increasing the efficiency of home care management
Addressing inefficiencies in the home care sector could lighten the load on our carers and make the sector more resilient, efficient, and adaptable as a whole.
This is where technology is having a measurable impact, both in terms of manager and carer productivity and the quality of care given. Digitising processes like rostering helps managers to make rota changes very quickly and communicate them in real-time to carers via a mobile app. Equally, automating payroll and invoicing reduces the time taken to manually reconcile timesheets and also allows easy calculation of payment for mileage and travel time. The ultimate benefit is that technology is giving managers and carers more time to care.
Helping carers deliver person-centred care
Carers want to give bespoke person-centred care to their clients yet outdated processes and legacy systems are having a direct impact on the quality of care they are able to give.
Technology comes into its own when a client is being visited by multiple carers as it allows handovers to be streamlined. Carers can share information specific to the individual that is instantly available to the next carer, which allows for that person's individual needs to be met.
Equally, medication records can be updated to reflect whether they have been administered or missed, which informs the next carer on actions that may need taking. With all notes visible to office staff, care activity can be monitored, and families can be kept up to date. Ultimately this type of care allows carers to put the individual at the heart of the care delivered.
Providing families with reassurance
While the pandemic has made it harder at times for families to visit their loved ones, technology has played a crucial role in keeping them connected. To complete the Circle of Care between families, providers and carers, technology provides insights and peace of mind that helps to reassure the loved ones of those in care.
For example, family can have online access to view updates on medication and details of visits through portals such as CareLineLive's Family & Friends Portal. Not only does this help them to feel better connected, but it improves transparency and trust between care providers and customers.
The Circle of Care needs all the support that is available, and technology can help us make it increasingly empowered. Through the adoption of technology home care providers will not only optimise communication within the Circle of Care but also the efficiencies of their processes and importantly, technology will help their clients receive a better standard of care.
Josh Hough, MD, CareLineLive