21 Jul 2020
CareLineLive's travel time estimates make sure carers' rotas allow sufficient time between visits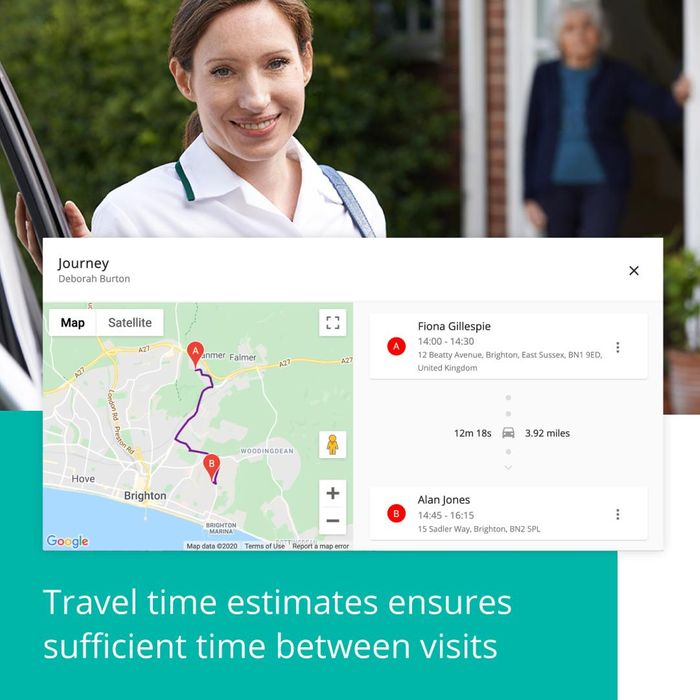 Planning a carer's rota can sometimes be challenging, especially when you're not sure of the time required to travel from one call to the next. Sometimes the time allocated is not enough, which has implications on client visits, for example, arriving late or having to cut short visits.
Whether a home care agency has a handful of clients or hundreds, distance is always a consideration when trying to maximise the efficiency of carers' daily rounds.
As part of CareLineLive's total home care management system, CareLineLive' s travel time estimates feature gives managers who are organising carers' rotas an indication of the time needed to travel between visits. Using the Google Maps platform, the system gives the most accurate estimation of the journey the carer will take, and how long it will take them to do it. The mode of transport for a carer can be taken into account, allowing estimates to be calculated whether they're driving, walking, cycling, or even taking public transport.
In CareLineLive's Management Platform, once the travel time estimates feature is activated, a non-intrusive indicator is displayed on the roster screen that gives a graphical representation of the travel time estimate. Clicking on the indicator shows more detailed information about the journey; including distance and expected route, as well as time.
The feature also effortlessly recalculates journeys when rota changes need to be made. As the order of visits are adjusted, prompts are given to update, and display travel estimates for the new running order to check that it's suitable before committing any changes.
The travel time estimate feature offers flexibility, for example to account for inactivity between visits, e.g. lunch breaks, travel time estimates are automatically excluded for any visits that are more than 2 hours apart.
CareLineLive gives full visibility of a carer's daily visits as the system can quickly show a carer's route for a specific day.
Having travel time information can help care co-ordinators plan a carer's rounds quickly and logically, whilst ensuring that a home care agency's resources are used as efficiently as possible. Not only that, incorporating the right amount of travel time can make sure the punctuality and duration of client visits are achieved, ensuring compliance and client satisfaction.