Care Home of the Month, Elliscombe House, Somerset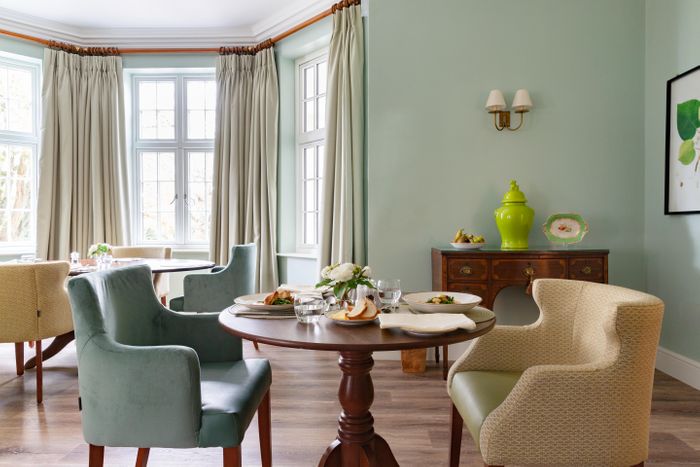 Elliscombe House is situated in a small hamlet near Wincanton, in southeast Somerset, close to both the Dorset and Wiltshire borders. Built in 1901, this elegant Edwardian house was formerly a family home. Today, Elliscombe House provides person-centred residential, nursing, and respite care for up to 35 elderly individuals.
The Care Home Awards this month shortlisted Elliscombe House in its Interior Design and Architecture Category. The newly renovated home has all the essentials you would expect from a modern, luxury care provider; a salon, residents' bar, spa bathrooms, fine dining, ensuite wet rooms, garden access in ground floor rooms including conservatories for some, but the very heart of Elliscombe House is that it began its life as a family home and the essence of that remains.
Managing Director and Owners, Glenn and Catherine Trotman, had a creative vision that has succeeded in cleverly maintaining the character and energy of its historical family-orientated roots. When residents decide to stay here, they are buying into the beautiful narrative of a place that holds many memories.
Innovative decisions made in early renovation stages have received accolades in a recent award for Innovative Care Home of the Year - a nod to its cleverly efficient infrared heating and water systems. Elliscombe House offers every aspect of design functionality for providing quality care, but the evocation of home, and all that represents, remains firmly at its core.
Innovating and developing our delivery of care is at the forefront. We are proud to have a 9.9 out of 10 review score on Carehome.co.uk from residents and their families. This honest and authentic feedback is how we grow and improve and it's hugely rewarding for the whole team.
We understand that the pathway to considering a care home is changing; we receive enquiries from many successful, independent, older individuals pre-empting their future. Learning that Elliscombe House is dual registered to provide residential and nursing care offers reassurance that should individuals' care needs change, their residency at Elliscombe House remains safe and secure.
We pride ourselves on understanding the transition to care can cause anxieties for all, at Elliscombe House our nursing team works with you to alleviate these feelings immediately, enabling family members to step back from the care responsibilities of their loved one and focus on the nicer things in life.
Every thought and detail go into making Elliscombe House diverse in its care for every resident, from respite care to residential and nursing care. Our person-centred care ethos supports every resident, individually and indeed together. We are passionate about social connection and strongly encourage this at every opportunity – from coffee mornings and breakfast clubs to picnics in the garden and enjoying a pub experience every Friday. With activities offered daily, residents can enjoy their favourite hobbies, or seize the opportunity to try new things; from yoga to art classes, we aim to go above and beyond to offer what our residents request. When going out isn't possible, we bring it all in. Bunting adorns the garden and grounds, with music and good food in abundance. We openly welcome family and friends joining in and love to cater for those special family events.
The driving force behind it all? Elliscombe House is managed and staffed by an outstanding team, bringing a wealth of experience to their respective areas.
Every member of the Elliscombe House staff team upholds the values that underpin the care all our residents receive. Our values have been crafted by the team and they represent five key areas where care here flourishes, which are: 'we promise to protect and support each other compassionately, respectfully, and with dignity, we are closely united in togetherness - friendship, understanding of each other; our friends, and our families, we encourage and embrace spontaneous impulses and enjoy the laughter, we listen and learn, creating unique thoughtful, and imaginative ways to connect with each other and we work together to capture magic moments to make special memories. These sets of values are ones we all believe and to which we collectively commit ourselves.
In December 2022, Elliscombe House was awarded a Good overall rating from the Quality Care Commission (CQC). The home Manager, Carla Bowman, and Deputy Manager, Rachel Herniman, are both experienced, qualified nurses, assuring and delivering a safe, nurse-led service of the highest quality. Together they lead an outstanding team, bringing a wealth of experience to their respective areas. They empower everyone to be the best they can be. Collectively, we are a nurturing, confident, and happy team whose infectious enthusiasm permeates the home and underpins everything we do.
www.elliscombehouse.com
https://carehomemagazine.co.uk/