22 Aug 2023
The Outstanding Society (OS) is thrilled to announce our return as hosts of the exclusive Learning Lounge at Care Show Birmingham 2023!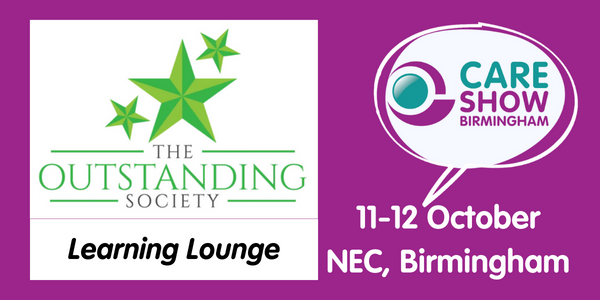 Our engaging panel discussions, guided by our directors alongside esteemed guest panellists, promise insightful conversations. Over the course of two dynamic days, our line-up features intriguing sessions such as 'Achieving an Outstanding Inspection Day through Mastery of the CQC Single Assessment Framework'. Notable speakers include Debbie Ho from CQC and resident Frederick Palmer from Close Nursing Home.

Other sessions include:

1. VIVALDI Social Care – Reducing Infections and Improving Lives: We are thrilled to have Diane Mayhew, Care Rights UK, join us for this enlightening session. Join us for a thought-provoking discussion on VIVALDI Social Care and its implications for the sector. Please join us for celebratory drinks in our Learning Lounge from 4:30 pm to 5:00 pm after the session.

2. Embracing the GREEN-Eyed Monster! Green: the Future of Excellence - Are you on the right trajectory to align with the innovative CQC single assessment framework, which now incorporates a quality statement on environmental sustainability? We are excited to feature guest speaker John Rastrick Flotilla, Trusted Net Zero Partner.

3. "(I always feel like) Somebody's Watching Me: Safeguarding Data in the Digital Age - Cybersecurity Demystified" – Our panel discussion will explore the crucial topic of data security in the modern era. Join us and our guest panellists, including Katie Thorn from Digital Social Care, representatives from Nourish, Camascope, PainCheck, and Lottie, to unravel the complexities and ensure your digital presence is secure. Stay tuned for a possible impromptu musical moment when we unveil this topic on the day!

Moreover, we proudly present 'COMING OUT: The Unveiling of The Outstanding Diversity Forum', spearheaded by Sanjay Dhrona, alongside a medley of other groundbreaking discussions. The OS is at the forefront of knowledge exchange with an impressive total of eight hosted sessions and additional appearances as guest speakers. This year marks a milestone as all seven Directors, representing Residential, Domiciliary, and LD Adult Social Care Services, will grace the occasion. Your presence is eagerly anticipated, and we can't wait to welcome you!