26 Oct 2023
The Care Show Birmingham celebrates its biggest edition and launch of the Retirement Living Show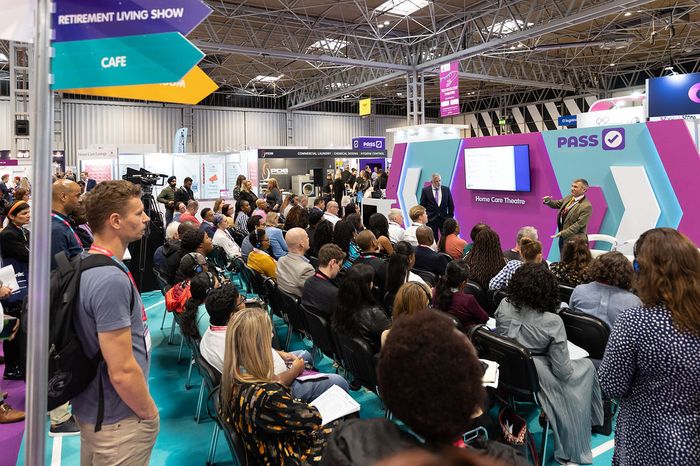 The Care Show Birmingham and the Retirement Living Show opened its doors on 11-12 October 2023 at NEC Birmingham to 4,034 delegates, 227 speakers, and 284 exhibitors. The doors opened to a lively start and created an immediate buzz on the show floor with first conference sessions filling up with keen listeners.
The event had moved to a bigger hall to accommodate the growth and brought in more exhibitors from different areas of the care and the retirement living sector, from the latest innovations in technology and business services to care equipment, catering, design and much more. The exhibitors included leading product and service providers such as Danfloor, Lightyear, Log My Care, Nourish, PredicAire, Radar Healthcare, Xledger, Countrywide Healthcare and more.
A carefully curated conference programme introduced the visitors to a set of new style talks, making the conference experience more interactive and exciting content such as emotive short film premiers. The talks included a host of fresh, interesting faces with 76% of the speakers being first timers at any care sector event. This didn't dampen the enthusiasm as the entire speaker cohort provided the listeners with inspiration, latest information, and reassurance that the current challenges, like the cost-of-living crisis, can be tackled head on, and provided them practical advice to immediately take back to their day-to-day work. The speakers included well-known faces such as Tobi Alli-Usman, Zoe Fry, Ian Donaghy, Sonia Rai and Dudley Sawyerr, with new names including Claire Leake, Rita Chowdhry, Julia Alcamo and Ted Brown.
The new Care Show Thirty Under 30 initiative was also celebrated, highlighting the new talent and the future of care sector. All winners were awarded with their certificates and will be part of the first Thirty Under 30 cohort. Read more about the Care Show Thirty Under 30 initiative here: https://www.careshow.co.uk/care-show-thirtyunder30
The Care Show Birmingham continues to celebrate the care sector by bringing together the decision makers, solution providers and those doing the day-to-day heavy lifting, and offers them a platform to network, solve problems, and leave with practical solutions. The show features invited them all to take part in:
A refreshing drink at the Beer & Bubbles Bar
Hear more from their favourite speakers at the Meet the Speaker Studio by Five on a Bike
Take a moment for themselves at the Quiet & Relax Room
Find the latest and most suitable technology solutions at the Technology Concierge Lounge with Guided Innovation
Update their professional headshot with a complimentary headshot serve by Five on a Bike
Group Portfolio Director, Michael Corbett, commented after the event:
"The Care Show Birmingham and the Retirement Living Show 2023 continues from strength to strength. It has been our pleasure to create this event for the care sector with the opportunity to add more networking, fun, learning, problem-solving, and a touch of magic. The team set out to make this something special for the care sector, to reach above what we've done previously, and I think we got there.
The feedback during the show was overwhelmingly positive, everyone was enjoying the experience and making most of it. Seeing the smiling faces and important conversations taking place make it worthwhile and we're already looking to 2024."
An exhibitor said: "We've had a great couple of days at the Care Show. It's been really fun, action-packed, lively… and we've had some really good conversations with some really good prospects. We'll be back next year I'm sure."
Show organisers, CloserStill Media announced the show will return on 9-10 October 2024, NEC Birmingham and attendees can register their interest today online: https://bit.ly/48XUeql
The next opportunity to enjoy the Care Show experience is at the Care Show London on 24-25 April 2024, ExCeL London. Register your interest to attend here: https://bit.ly/3PVeDn6
-ENDS-
CloserStill Media, specialise in global professional events within the healthcare and technology markets. The healthcare portfolio includes some of the UK's fastest growing and award-winning events, such as Best Practice, The Clinical Pharmacy Congress, the Dentistry Show, the Care Show and Acute & General Medicine.
It is a market leading innovator. With its teams and international events, it has won multiple awards, including Best Marketer – five times in succession – Best Trade Exhibition, Best Launch Exhibition, and Sunday Times Top 100 Companies to Work For – four years in series – among others.
CloserStill Media delivers unparalleled quality and relevant audiences for all its exhibitions, delivering NHS and private sector healthcare professionals from across occupational therapy, pharmacy, dentistry, primary and secondary care with more than £16m worth of free training.
For more information please contact:
Exhibition and speaker enquiries: Adam Camel – a.camel@closerstillmedia.com
Marketing enquiries: Heidi Rasanen – h.rasanen@closerstillmedia.com