13 Oct 2023
WINNERS OF WASHCO'S 2023 LOVE LAUNDRY AWARDS ANNOUNCED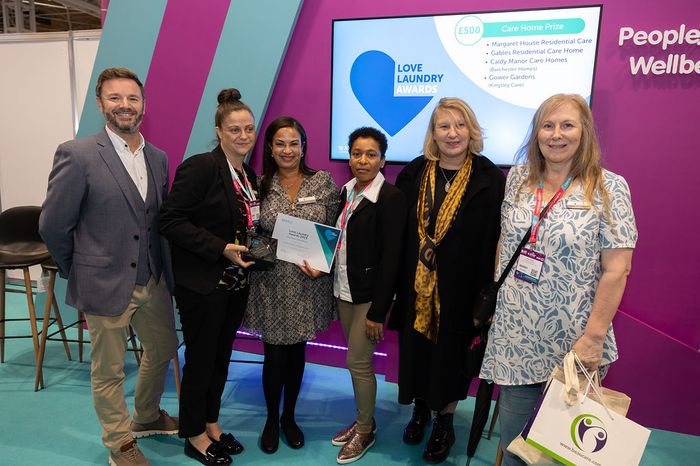 13th October – Newbury, Berkshire WASHCO, the commercial laundry specialist, proudly announced the winners of the 2023 Love Laundry Awards at this year's Care Show at the NEC, Birmingham.
WASHCO's Love Laundry Awards were set up three years ago to recognise the unsung heroes of laundry, who work tirelessly to keep care homes' clean and safe, and above all else to protect the residents' welfare and wellbeing.
The 2023 Love Laundry Awards had a record number of entries and WASHCO are thrilled to announce the winners for the three categories: Laundry Hero, Care Home Team, and new for this year, Care Home Group.
The winner of the 2023 Laundry Hero award is Waratthaya Watters, from The Dower House Nursing Home in Winchester. Waratthaya was recognised for going above and beyond the call of duty and is a well deserving winner of £250 to spend on electrical goods.
Waratthaya was nominated for this award by her Housekeeping Manager, Claire Wallis, because of her dedication to residents and their garments, delivering a fast, high-quality service, even when they experienced staff shortages:
"Waratthaya displays excellent attention to detail and commitment to her work. Our laundry processes high quality cashmere garments that need specific care. Our residents have confidence in Waratthaya's ability to properly care for their treasured garments."
The 2023 Laundry Care Home Team award goes to Gower Gardens, part of Kingsley Care,
as the care home showed outstanding teamwork in their laundry. Gower Gardens are delighted to win £500 to spend on electrical goods of their choice.
Hospitality Manager, Holly Payne, nominated Gower Gardens for this award because the incredible domestic team boosts morale, and if short-staffed those who were previously carers are still willing to cover care shifts:
"I have worked in many different organisations and have never known a team to work so closely and well together. The team are fully flexible with each other to ensure the rota is covered at all times. Some domestic staff were previously carers and will not think twice about going onto care, should they be needed, to help cover staff sickness etc. They all boost staff morale around the home and have excellent relationships with all our residents and their families. We receive positive feedback daily regarding how well they work to keep the home clean from top to bottom!"
To round off the awards, the winner of the new 2023 Care Home Group award is Sense Residential Care, who were nominated by Beverley Andrews, Property Administration Manager. Sense Residential Care demonstrated their commitment to best-in-class laundry processes and are the worthy winner of £500 of electrical goods for one of their care homes, or for a specific individual.
Beverley nominated Sense Residential Care because of their recent investment into safeguarding staff and residents: "Changes to our processes have made laundry care a more important part of our business. Over the past couple of years, Sense has made a conscious decision to upgrade our laundry equipment by installing better fit for purpose machines, so that our service users, and indeed our staff, can benefit from a more efficient, effective and safer wash."
WASHCO's Head of Marketing & Projects, Emily Stoten, said: "We'd like to extend our heartfelt congratulations to all of our very deserving 2023 Love Laundry Award winners. We received a record number of entries and we were really impressed with the exceptionally high standard this year. The dedication and commitment shown by each of our winners will leave a lasting impression on us. We can't wait to launch the awards again in 2024!"
For more information about WASHCO's services, please contact their dedicated team on 08000 546 546 or email info@washco.co.uk