25 Aug 2022
Care home residents enjoy Hawaiian party with tropical mocktails and coconut bowling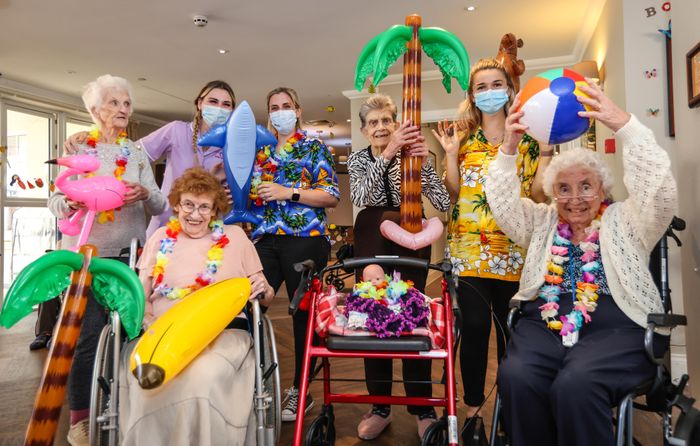 Residents at a care home in Bournemouth enjoyed a Hawaiian party to celebrate the summer months featuring tropical mocktails and coconut bowling.
Great Oaks care home, on Poole Lane, was decorated in a variety of colours for the special event, which was organised to enable the residents to experience an exotic holiday at home. The care team donned colourful Hawaiian shirts for the activity and the residents were encouraged to dig out the brightly-coloured floral clothing from their wardrobes for the occasion. They were joined by a host of inflatable animals including parrots, dolphins and flamingos, as well as inflatable palm trees and bananas for decoration.
The first floor of the care home featured a craft area where the residents could make their own lei which is Hawaiian-style flower garlands. Other fun activities beachball volleyball, pin the coconut on the palm tree, music and dance, alongside a host of drinks and snacks including ham and pineapple pizza and tropical fruit salads with mangoes and pineapples.
Erin Butcher, Wellbeing Manager, said: "It was so rewarding to see the residents with a smile on their faces as they played some games together and enjoyed their 'holiday from home' experience as we transported them to the tropical island of Hawaii. With the recent hot weather that we have had this summer, it was lovely to bring some of that sunshine indoors so that our residents could take part in some fun activities which remind them of beach days gone by."
The Encore team provides care for residential, nursing, dementia and Alzheimer's, palliative, and respite residents. This includes a dedicated Wellbeing team in each care home who are on hand to organise fun activities to support each resident's physical, emotional, and holistic wellbeing.
As well as Great Oaks, the Encore Care Homes family includes Oakdale in Poole, Fairmile Grange in Christchurch, and Hamble Heights in Fareham.
For more information on booking a tour of the care homes and to learn more about the care services available at Encore Care Homes, go to Encorecarehomes.co.uk
Ends –