The Care Show Celebrates the Biggest Show-run in History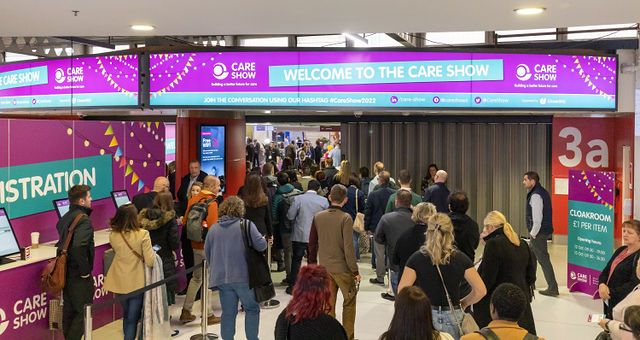 The Care Show opened its doors on 12-13 October 2022 at the NEC Birmingham to 4,669 delegates and 220 exhibitors. It instantly got to a buzzing start and resulted in the most successful Care Show to date, receiving positive feedback from delegates, speakers, sponsors, partners, and exhibitors.
A carefully curated conference programme provided the inspiration and latest information to help attendees provide better care and protect the future of their organisation, with leading speakers including Claire Sutton, Maaha Suleiman, Ian Donaghy, Dudley Sawyerr and more.
Several new features were also designed with delegate's feedback in mind to ensure everyone could make the most out of the event. The Quiet and Relax Room created to offer a place of calm for those delegates attending their first show following the pandemic and the Beer and Bubbles Bar providing a relaxing spot to catch up with old friends, to The Outstanding Society Learning Lounge to provide the opportunity to speak to representatives and get advice on how to achieve an Outstanding level.
Group Event Director, Michael Corbett, had this to say after the event:
"Care Show 2022 has been a pleasure and honour to create for the sector. We had the opportunity to add more education, fun, networking, and something special and I think we have managed to make that happen. The team believe this is our service to care providers and to see everyone engaging and smiling; to packing out theatres and enjoying themselves is why we do this job. The bar has been set and we are already looking forward to 2023."
From ponies, robo-dogs, and bananas to the highest number of attendees yet, as well as a world-class conference programme, the Care Show 2022 represented everything the team behind-the-scenes hoped it would be and more.
"I think it's been hugely informative, very useful, some of the learning sessions have been invaluable – I think particularly around subjects like social Cary imagine and particularly around immersive training subjects such as the more advanced care to virtual reality."
"It's been really good, I think it's one of the best exhibitions for all the kind of different walks that's happening within social care, going from food to fabrics to technology. The whole event has been informative so I would definitely come again next year."

Show organisers, CloserStill Media announced the show will return on 11-12 October 2023 and attendees can register their interest today.