Care Show Thirty Under 30 Class of 2023 winners announced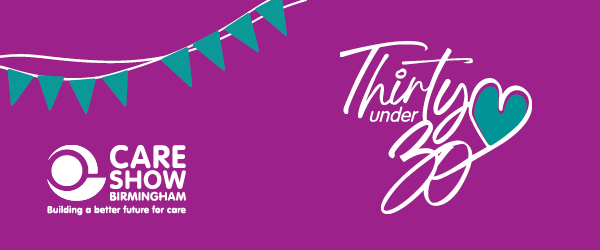 The Care Show has today announced the winners of its first Thirty Under 30.
The brand-new initiative is designed to celebrate tomorrow's leaders and their successes, together as a community across the social care sector. The Class of 2023 will gain recognition from their peers, receive official acknowledgement for their achievements so far and join a support network of like-minded individuals leading the sector to a brighter future.
Over the next year, the Care Show will collaborate with the winners to deliver key content, facilitate networking opportunities, and create a support network for the Class of 2023 to stay in touch long after the ceremony takes place.
Michael Corbett, Portfolio Director at CloserStill Media – organisers of the Care Show, said: "The amount of star quality nominations we received for the first Care Show Thirty Under 30 was fantastic! Thirty Under 30 allows us and many others to highlight the huge career opportunities being involved with care and change the stigma often associated to this wonderful industry. We look forward to working with this group and further support them as they continue their career journey."
The Care Show Thirty Under 30 Class of 2023 are:
Aaran Fryer, Registered Manager, Godfrey Barnes Station Limited
Aimee Murray, Service Leader, Community Integrared Care
Alex Ball, Operations Manager, Stow Healthcare
Alisha Black, Recovery Support Worker, SIL
Amelia Pace, Head of Lifestyles, Milkwood Care
Angel McKenzie, Care Assistant, Milkwood Care
Elizabeth Gaudin, Chief Operating Officer, The CareRooms Ltd
Georgie Walsh, Regional Support Manager, Belvedere Care Homes
Jack Cook, Registered Manager, First Thought Care Services Ltd
James Richardson, Managing Director, Red Rose Care
John Richards, Support Worker, Pickworths Residential Living
Katie Sandison, Recovery Support Worker, SIL
Liam Walsh, Operations Assistant, Stow Healthcare Group
Lily Patrick, People Team Lead, Majesticare
Lucy Towler-Challis, Registered Manager, Blue Arrow Care
Megan Knight, Carer, Caroline Cares for You Ltd
Megan Tate, Manager, Kirklands Care
Monika Harris, Training and Development Manager, Mumby's Live In Care
Nicola Murphy, Care Home Manager, Shakti Lodge
Olivia Andrews, Registered Manager, By Your Side
Paige Donnellan , Team leader, Millennium Support
Piriya Surespran, Operations & Cultural Development Manager, We Care Group
Rachel Bates, Regional Administrator, Sandstone Care Group
Rebecca Coles, Registered Manager, Away Day Care
Rebecca Marks, Director, Ark Care Homes
Rebecca Moxom, Operational Manager, Bromley Healthcare Care at Home
Samuel Court, Director, Nexus Care Services
Shelby Hitchin, Support Worker, Pickworths Residential Living
Thomas Vaughan, Registered Manager, Tamworth Homecare
Veronica Gouveia, Service Manager, Lifeways
Visit the website to see the panel of judges and find out more information about the initiative.
The 2023 edition of the Care Show takes place on 11-12 October at the NEC Birmingham. Find out more about the Care Show by visiting the website: careshow.co.uk