17 Aug 2021
From Battlefields to Battle Knickers!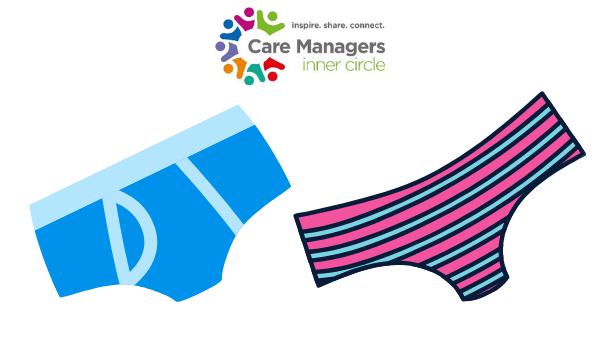 Knickers, bloomers, thongs, boxershorts or even your finest M&S 'Y Fronts'! The largest online care managers support group will be descending on the Care Show 2021 to hold its Annual Conference at the NEC, Birmingham.
'Wave those undies in the air… as if you don't care!'
The UK Care Managers Inner Circle annual conference with its legendary slogan 'Battle Knickers On…!' will be held on 13th & 14th October in joint partnership with the Care Show and supported by Person Centred Software. Founder and Chair, ex-soldier Jonathan Cunningham MBE said 'We are delighted to once again hold our annual conference at the Care Show. We have an amazing line up of speakers for this year's event. This year the stand sponsor is Person Centred Software who have allowed us to furnish our C52 stand with our 'battle knickers'!
So where does 'Battle Knickers' come from?
At the start of the pandemic decorated ex-soldier and now care manager Jonathan broadcasted live every night on the Inner Circle Facebook. This broadcast was designed to provide emotional support across the UK to all Inner Circle care managers going through the shock & trauma of the pandemic. Updates on the latest COVID legislation, advice of staff leadership and business continuity and quite simply how to survive. One morning Jonathan sent out a post 'Socks on, battle knickers on…let's do this!' This warm term of endearment was immediately taken to heart by its 87% female membership, and even the fellas too. So, now the phase represents the inbuilt resilience of all UK Care Managers facing the challenges of todays social care. It is a tough gig but the girls and boys of the Care Managers Inner Circle are up for the challenge. Battle knickers are ON!
Heidi Thomas, Head of Global Marketing at Person Centred Software, adds: "We are delighted to be supporting this great initiative and helping to increase the awareness of the UK Care Managers Inner Circle Facebook group, which has already shown to be a vital resource through the pandemic. We look forward to seeing everyone at the Care Show and supporting care homes on their digital transformation."
Mike Corbett, Group Event Director at Care Show, adds "To be working with the largest social media group for the care sector after a tough 18 months is amazing. The Care Managers Inner Circle have been sharing best practice, a source of innovation and an amazing platform to bring managers together and we are looking forward to bringing this digital community together to meet face to face this October."
Come and join our Care Managers Inner Circle family.
Membership is FREE. The spirit of the Inner Circle is that everyone is prepared to share their ideas, thoughts and templates. The groups mantra is #sharingiscaring. There is strictly no advertising nor promoting without authorisation. The Facebook group is open to care managers, owners of care business and senior social care executives and managers. So, what are you waiting for?
Search for us on Facebook 'UK Care Managers Inner Circle' and we look forward to welcoming you in, knickers on or 'commando' we don't care!
So, come and join our Inner Circle Annual Conference at the Care Show and our Battle Knickers on Stand C52. And remember…
Battle knickers ON… you've got this!