05 Oct 2022
High tech communication. With a human touch.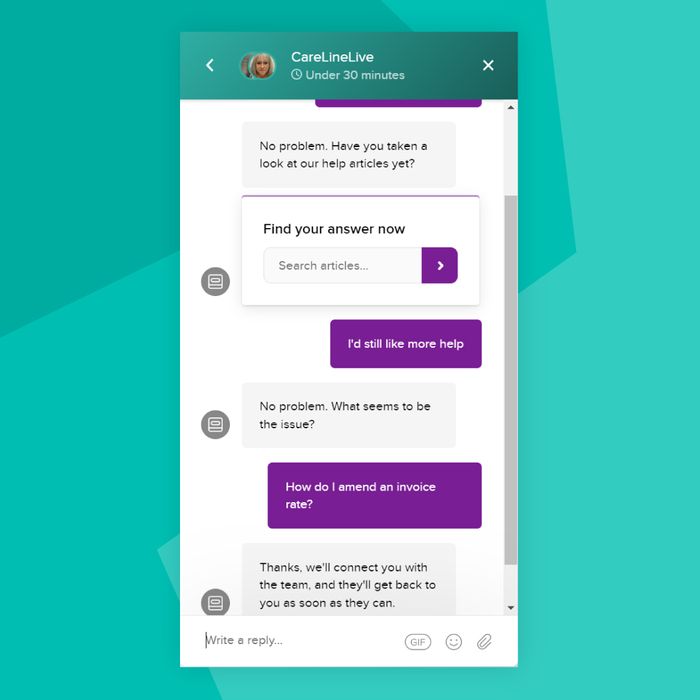 CareLineLive has switched to a new customer support platform: Intercom.
Intercom is an all-in-one messaging platform designed for customer communications, especially created to provide after-sales support to customers. It incorporates the usual messaging functions that you will be familiar with from apps like WhatsApp and Facebook Messenger with chat bot functionality plus product tours, email, messages and a help centre which is integrated with CareLineLive's comprehensive support articles. It's designed to help you every step of the way in your journey of working with our software.
Using Intercom, we – in line with our company culture and values – aim to make online support even more personal – even with chatbots – and we expect customers will find that many queries can be resolved more quickly and efficiently as a result. Any conversations on Intercom can switch seamlessly between chat within the CareLineLive app and email, so customers don't need to worry about keeping CareLineLive open to wait for a response.
CareLineLive's Director of Development Dec Norton said "Fundamentally, Intercom puts more of a focus on live-chat; however it's not like the clunky chat experiences you have used when trying to contact your bank or an online store. It will allow us to increase momentum and find a resolution to customer queries quicker."
How do customers contact the CareLineLive support team?
We hate those systems where you can never talk to a human being as much as you do. So customers always have the option to speak to our very human customer support team by phone. However with Intercom we will have an additional channel that customers may prefer to use.
This is not about removing our very human touch but providing a more streamlined and efficient support service to our customers.
https://carelinelive.com/we-are-humans/