06 Oct 2021
How CareLineLive has Reshaped Rostering in Home Care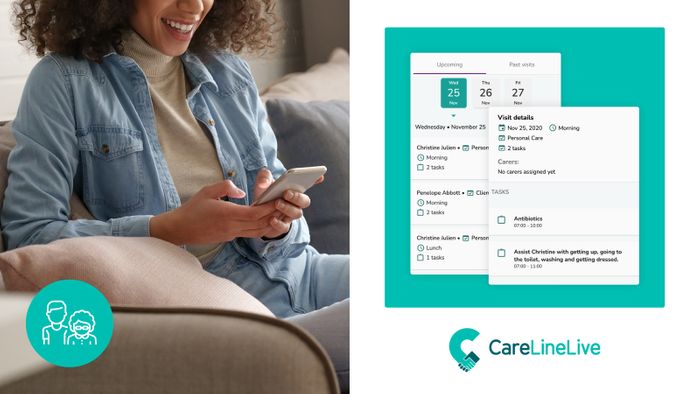 For CareLineLive, rostering has been central to the platform as without it, agency managers would not be able to deliver their care services to their clients
CareLineLive was partly developed out of frustration that rostering, for many home care agencies, was a demanding and time-consuming process that was traditionally paper-based or used multiple word and spreadsheet documents. It relied on individuals within agencies to manage and organise the flow of care between carer, client, and family, and was prone to mistakes. Fast-forward to 2021 and we have seen considerable improvements in the process, with digitisation and automation now high on the agenda for the home care sector, partly as a response to the Covid-19 pandemic.
For CareLineLive, rostering has been central to the platform as without it, agency managers would not be able to deliver their care services to their clients - rostering is the process by which they allocate the right carers to their clients so that appropriate care is delivered. The digital solution is intuitive, quick, and easy to use and updates can be made in real-time to inform carers and clients of any changes to visit schedules. It promotes two-way information flow and means that carers do not waste time on unnecessary office trips or checking paper rotas that might be out of date. Instead, they are kept up to date with all relevant information via the Carer Companion mobile app, available on Apple iOS and Android mobile devices.
Easy-to-use and cloud based, CareLineLive ensures client visits take place at the right time and enables the best possible care to be received by those that need it when they want it. On top of this, the automation of payroll and invoicing processes offer managers the opportunity to increase efficiency of daily tasks, all of which can be done from anywhere that has an internet connection - a working world which we have all become accustomed to. Other functionalities include:
Comprehensive contact and personal information available for clients, carers, and families, to enable person-centered care and matching carers to clients
Client and visit information that is updated instantly after visits and alerts managers if medication or visits that have been missed or delayed
Travel time estimates that help to improve productivity and roster efficiency
The ability to add unplanned visits, when carers need to visit clients that have not been booked by the office
For our customers the digitalisation of their work processes has been indispensable and have saved all staff working with our customers' precious time. Faiza Swaleh, Director at Lavender Care Agency told us:
"Before we adopted CareLineLive, our existing system meant that we still had to email rotas out, which was time-consuming and laborious. Now that CareLineLive is in place, we've noticed huge benefits in the way our carers work, as they're no longer reliant on paper-based processes. What's great about CareLineLive is that it's compatible on all devices too, I'd highly recommend it to other agencies that are looking to provide more support to their carers and clients."
Rostering software has transformed the way home care agencies and carers perform the most basic of tasks, such as ensuring carers attend care visits on time and are aware of their rota and visit details in advance. Technology is streamlining how carers work with the ultimate benefit of improving client care and communication within the Circle of Care. Carer mobile apps such as CareLineLive provide all the information a carer needs to make their job easier, ultimately reducing stress and increasing satisfaction in the role they do.
To find out more about CareLineLive's rostering and care management solution or to request a demo visit carelinelive.com