20 Jul 2022
The Outstanding Society joins the Care Show to offer hands on advice and learning this October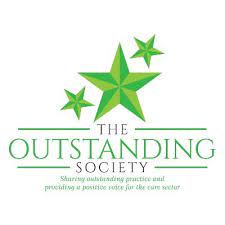 CloserStill Media Reports: The Outstanding Society has exclusively partnered with the Care Show to host a 'Learning Lounge' on 12-13 October at the NEC Birmingham
The Care Show is delighted to announce, The Outstanding Society have exclusively partnered with The Care Show to deliver a Learning Lounge at this year's event, returning on 12-13 October at the Birmingham NEC.
The Outstanding Society was formed by a small group of care providers who at the time, all achieved 'Outstanding' ratings for the CQC inspection standards in 2014. There was a general consensus between these groups that it would be beneficial to the adult social care sector if services were able to share their expertise with other providers and support the driving up of quality across the whole of England. In 2021 the Outstanding Society developed into a Community Interest Company and now has a board of 6 Directors with a wealth of experience across Social Care. The aims are to share and celebrate best practice, help others to improve and promote careers in Social Care. It is open to all providers irrelevant of their rating and will remain free of charge to all to attend our events and receive our regular newsletters.
This October, the owners, directors, and managers from these outstanding care homes, will be hosting a Learning Lounge at the Care Show. They will be offering hands on advice on how to best improve your CQC KLOE rating from those who have lived the experience.
Topics include:
Shoestring innovation - Low-cost ideas that impact the quality of life for residents and wow stakeholders and regulators. This will cover "Caring" KLOE
Blowing your own trumpet - PR, social media, and other marketing. This will cover "Well Led Kloe"
Shut that door! - Retention, looking after your teams, positive employment. This will cover "Effective Kloe"
The Inspector Calls - Inspection time, are you ready? What do outstanding providers have when the Inspector Calls? What evidence do you have and how do you present it? This will cover "Well Led Kloe"
Turning your ship around - Improving and changing management with your teams. This will cover "Well Led & Effective Kloe"
Risky Business - Looking at risk and safety within your care business. This will cover "Safe Kloe"
Niggles, grumbles, moans, and gripes - Learning from complaints. This will cover "Responsive, Well led and Safe Kloe"
Why me or watch me - Taking things forward with positivity. This will cover "Well led Kloe"
Scream and Shout - Recruitment in the care sector, celebrating careers in social care
And the winner is… - Promoting award nominations within the sector and your teams. This will cover "caring, effective, well led Kloe"
*Times and speakers to be announced. Topics may change.
Mike Corbett, Group Event Director for the Care Show said, "The first time speaking with the team at The Outstanding Society, it was very clear we shared the same vision and passion for promoting great advice to help improve all care providers. We were delighted when the opportunity came up to work together and create something very hands on, educational and engaging at the Care Show."
Quote from The Outstanding Society, 'Zoe Fry, Director of the Outstanding Society said "The Outstanding Society shares and celebrates best practice while helping others to improve, we also promote Careers in Social Care. The Care Show is a unique opportunity to have our own learning lounge with guest speakers forming panel discussions so that Directors, Managers and Care Teams who visit can learn from the event and the wealth of experience at the Care Show. For those who have attended our events you will know our main aim is to celebrate best practice, remain positive and facilitate everyone going away with at least one golden nugget of inspiration they can use within their organisation. The Directors look forward to welcoming you all to our lounge and also sharing our App for Social Care …''
The Care Show is free to attend for all care providers. Registrations can be made online at: https://www.careshow.co.uk/outstanding-society
The organisers, CloserStill Media, specialise in global professional events within the healthcare and technology markets. The healthcare portfolio includes some of the UK's fastest growing and award-winning events, such as The Residential & Home Care Show, The Clinical Pharmacy Congress, The Dentistry Show, The Pharmacy Show, Best Practice and Acute & General Medicine.
It is a market leading innovator. With its teams and international events, it has won multiple awards, including Best Marketer – five times in succession – Best Trade Exhibition, Best Launch Exhibition, and Sunday Times Top 100 Companies to Work For – four years in series – among others.
CloserStill Media delivers unparalleled quality and relevant audiences for all its exhibitions, delivering NHS and private sector healthcare professionals from across occupational therapy, pharmacy, dentistry, primary and secondary care with more than £16m worth of free training.
For more information please contact: