25 Aug 2022
Positive Solutions Launch New eMAR Solution – HxCare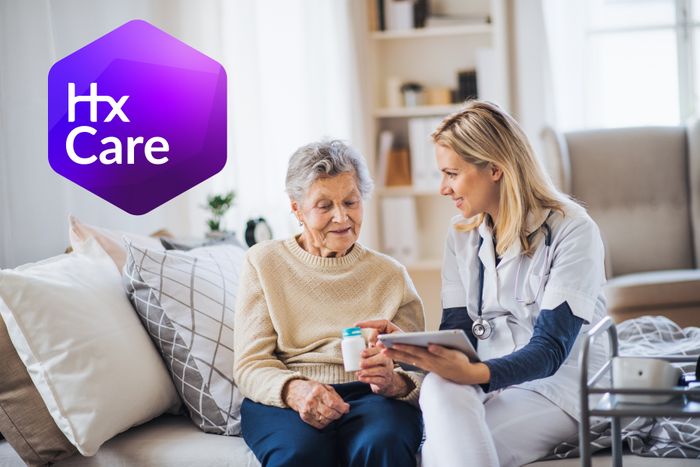 Positive Solutions are set to launch an innovative, cloud-based medicines management system, HxCare, which will be showcased in October at the Care Show.
Positive Solutions are the leading provider of PMR solutions to the community pharmacy sector. For 30 years their innovative software has helped automate workflows, increase efficiencies and enhance patient safety whilst many of the 2,500 pharmacy sites they support already work with care homes across the UK.
It is estimated that around 80% of care homes in the UK are still using paper-based Medication Administration Records (MARs) to do their rounds. The delivery of medication in this way is prone to error as well as being cumbersome for both care homes and community pharmacies. HxCare aims to digitise workflows, reduce errors and free up care providers to spend more time delivering care to their residents. Designed to be truly mobile, HxCare will be tablet based and has been developed with significant input from care homes around the country.
HxCare features will include medication and round management, scanning for booking in with automated ordering linking into a full stock management system. The team at Positive Solutions have given specific attention to extensive auditability at the click of a button whilst workflows have been designed to increase efficiency, remove errors and provide full traceability. It will offer robust reporting which will be invaluable for both CQC and Care Inspectorate purposes.
Steve Russell, Positive Solutions Chief Commercial Officer comments "Critical to the product development of HxCare has been a commitment to making the user experience as intuitive and easy to use as possible. Simple menus and navigation facilitate adoption, training and roll out to care providers irrespective of their technical literacy."
HxCare also has an extensive product development roadmap and Positive Solutions are keen to involve users in shaping that roadmap with a feedback function for customer development requests.
HxCare will be showcased at the Care Show in October (stand B20) where care home owners will be able to see the product first hand and register their interest, sign up for the pilot or pre-order for launch.
Steve Russell, adds "HxCare from Positive Solutions will raise the bar for healthcare technology in the sector and ushers in an exciting new era for the care home community. Positive Solutions has led the way for the last 30 years in the design, supply and management of robust patient medication record systems. Bringing that expertise and pedigree to the care home sector, those adopting HxCare can expect a product that delivers exceptional value, performance and enhanced compliance and safety standards."
"Our team have worked closely with care homes across the UK for two years to ensure that HxCare offers the functionality and benefits missing elsewhere with a strong focus on intuitive user interfaces and decluttered workflows. With an exciting roadmap of new developments already scheduled, HxCare is set to transform eMAR for years to come."
For more information on the benefits of HxCare, visit the webpage here.