22 Sep 2022
What's new for Care Show 2022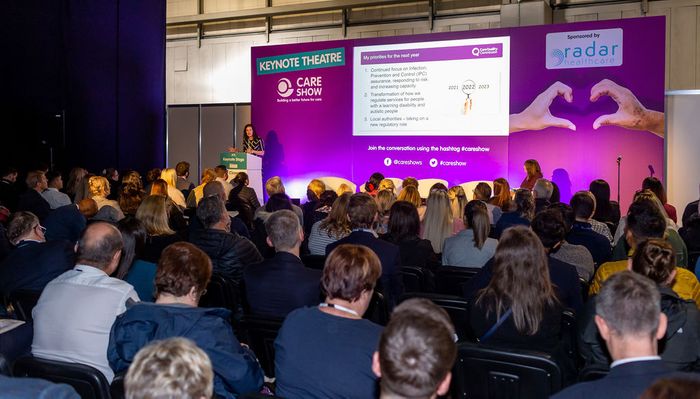 After a year of planning Care Show 2022 is just weeks away from welcoming you back to the main social care event in the calendar, we are delighted to be making an even bigger and better return this 12-13 October at NEC Birmingham.
Care Show has been a pioneering event for over 20 years, and we have continued to grow and expand to suit your needs. This year we are thrilled to announce a whopping growth of 27% of the floorplan, making this our biggest show to date. We will be transporting you into a different realm by having a festival theme throughout the entire show. The team have been working incredibly hard to provide you with the best show yet, and to bring together all the good from care homes, nursing homes and retirement living. The Care Show is for you, and it is a time to learn and explore what is taking place in the sector you work in. We want to celebrate all that you do.
Supporting your professional development needs is important to us and we want to ensure that you can provide the best care possible, with this in mind the event will offer over 75 hours of CPD accredited seminars lead and presented by the care sectors most influential people. You will be equipped with knowledge and advice that can be implemented immediately after you leave. You will also be able to take in new, practical hands-on training and find positive solutions to the obstacles you may be facing in the care sector. This would not be possible without the abundance of other care professionals who will be in attendance ready to share their experiences and wisdom.
All our theatres have individual key themes that will fit to what you need:
Keynote stage - A stage filled with big debates, hot topics and covering everything you need to help deliver better care
Homecare theatre – Here you can expect to find everything impacting home care and the wider domiciliary care sector. We want to give you the tools to go away and implement new solutions into your day-to-day work
Design, build and care environment theatre – Focusing on all things land procurement, lighting fixtures, sustainability, architecture, and dementia care design. You can be sure to find all areas of development in this theatre
Business theatre - This theatre will provide you with the latest updates from experts in marketing and finances. This is the place to be to give you the confidence and business acumen you need to be successful
People & wellness – Here the mental and physical health of your residents and team members and the recruitment of the right people takes centre stage
Technology theatre - Technology is a rising star in the care sector. We will be highlighting how virtual reality is making a difference now and how you can start to implement this into your practice
The programme has been curated with your best interested in mind and this year we have our biggest speaker cohort EVER! Covering the hottest and most challenging topics within the sector. You can be sure to be supplied with everything you need from the colour of your interior design to the benefits of music for dementia.
Here is a sneak preview to some of the exhilarating, informative and thought-provoking topics that ae on offer this year.
The role of women leaders in social care – The WAGS (Women Achieving Greatness in Social Care) are back! The WAGS will be holding a dynamic debate highlighting the profiles of the achievements of women in the health and social care sector.
Financial Sustainability – How to avoid the hamster wheel of doom – This session will go though some ideas on how to make changes to the business, so that smaller and independent businesses avoid the feeling of being on the 'hamster wheel of doom'
Staff Retention by Design– Skilled carers are in short supply and of course can decide where they are going to work. It's recognised that the management team and core values are key to picking where to be employed, however, we can't neglect the physical environment factors and how that will impact someone's decision.
Recruiting and attracting younger talent and some tips on retaining younger people in the care sector – A panel discussion around how you can encourage younger talent to join the social care sector. Hearing from three successful young leaders in the care sector and how their journey led them to climbing the care sectors workforce ladder.
CQC – What's the point? – A interactive panel debate all about the regulator in its current format and weather it is fit for purpose for the people working in the sector and those using care services.
The role of standards in delivering integrated care – You can expect to understand the importance of the sharing of information across health and social care in the delivery of integrated of care and what some of the challenges are in implementing standards in health and social care.
What's new for Care Show 2022:
Beer and Bubbles Bar – In partnership with Person Centred Software, unwind, network, and catch up with peers whilst enjoying a refreshing beverage
Outstanding Society Learning Lounge – The Outstanding Society will be on hand over the two days of Care Show to offer advice, tips and tricks and lead by example. Find care providers who have achieved an outstanding rating from CQC here and discuss how they achieved such a high rating
Final of Care Innovation hub – Hosted by the National Care Forum enjoy a grand awards ceremony for the winner of 2022 Care Innovation Hub Award
Gratitude wall – An opportunity to share what and who you are grateful for working in social care and to promote a positive message across the sector
Quiet & relax room – A space off the bustling show floor where you can unwind and take five minutes for yourself before heading back into the event
CQC 'Meet the Inspector' – This is your unique opportunity to sit down face- to-face in an informal environment and have a one-to-one with CQC inspectors and discuss your questions or concerns.