24 Oct 2021
The Care Show Birmingham Celebrates its Successful Return, Reuniting the Care Community this October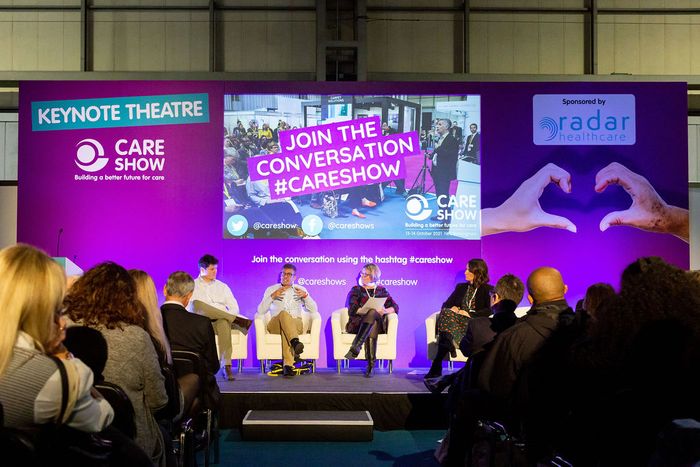 On the 13-14 October 2021, the Care Show welcomed thousands of care professionals back to the NEC Birmingham, as the first major reunion for the care community since the pandemic began.
Maureen Asefeso, Registered Manager commented that is was "A great event, especially after spending almost two years away! The event was well thought through and executed, an enjoyable and insightful couple of days".
There was a real buzz in the air as the Care Show reunited care professionals from a variety of different settings, from home care to residential care, and everything in between.
Care Show was a place to educate, inspire, and provides an opportunity to meet other influential professionals across different social care offerings. The two-day event consisted of a comprehensive conference programme delivering accredited CPD education, 200+ leading suppliers in the exhibition hall and was a place to facilitate important discussions through networking.
The show gathered visitors, exhibitors, and world-class speakers once again. "The energy in the room was amazing. New ideas were the currency of the whole conference, and the buzz was electric." Daniel Casson, Managing Director.
In-person learning has been especially missed during this pandemic. Care Show 2021 meant that individuals could finally access hours of live content, engaging with speakers and associates for an enriched education experience. Delegates could choose from over 80+ CPD accredited interactive lectures and practical workshops across five different theatres.
"Very inspiring two days the speakers where fantastic and I will definitely be coming again next year" Kirsty, Director.
Topics covered speciality areas including Build & Design, People, Infection Prevention, Technology for Care and Nursing Homes, Technology for Home Care, Business Services, Dementia, and Better Care. Some of the unmissable sessions included:
Recruitment In Challenging Times
Liz Jones, Policy Director - National Care Forum
Brian Bell, Chair - Migration Advisory Committee
Elizabeth Fairchild, People and Performance Director - Hallmark Care Homes
Charles Taylor, Workforce Lead - Care Association Alliance
Women in Care Debate
Sophie Chester-Glyn, Director - Coproduce Care CIC
Sarah Leskinen-Keel, Chief Operating Officer - Agincare Group
Monica Macheng, Partner - Bevan Brittan LLP
Karolina Gerlich, CEO - The Care Workers' Charity
The Magic of Effective Leadership - How to Lead your People
Neil Jurd OBE, MD and Best-Selling Author - Neil Jurd Leadership
Unfair to Care: The Pay Gap in the Sector
Teresa Exelby, Chief People Officer - Community Integrated Care
Market Differentiation: Creating an Interiors 'Brand'
Lori Pinkerton-Rolet, Director - Park Grove Design
Self-Care for Care Professionals
Anoushka Farouk, Rapid Transformational Therapist® and Spiritual Well-being coach - Aventurine Therapies
Rejuvenating the Home Care Sector
Jane Townson, CEO - Homecare Association
Catharine Chalton, Director of Care – Home Instead Senior Care
Rachael Crook, Chief Executive Officer and Co-Founder – Lifted
Darren Stapelberg, Chief Executive Officer – Grosvenor Health and Social Care
Medicines Management in Home Care
Caroline Southgate, Director, NICE Fellow - Doris Jones Ltd
Kathryn Smith, Care Home Support Pharmacist Medicines Optimisation Team - NHS Coventry and Warwickshire CCG
Michelle Liddy, Medicines Implementation Consultant – NICE
Julia Riley, Clinical Lead & Palliative Care Consultant - Coordinate My Care
Why tech will support - not replace - people-focused care
Brett Smith, Director of Customer Success Management – Planday
Gareth Williams, Locality Manager - Brandon Trust
Getting Personalisation Back on Track
Tim Straughan, Director of NHS@Home in the Personalised Care Group - NHS England and NHS Improvement
Michael Corbett, Group Event Director of Care Show said "Care Show would like to thank everyone who visited and supported the 2021 edition, it was one for the books. CloserStill Media have already begun organising next year with Care Show returning to the NEC, Birmingham on 12-13 October 2022. Save the date as it is set to be even bigger and better than ever before!
We can't wait to see the care community re-unite again, make sure you don't miss the number one event providing comprehensive CPD accredited educational content and hands-on practical training for care professionals."
The organisers, CloserStill Media, specialise in global professional events within the healthcare and technology markets. The healthcare portfolio includes some of the UK's fastest growing and award-winning events, such as The Clinical Pharmacy Congress, The Dentistry Show, The Pharmacy Show, Best Practice and Acute & General Medicine.
It is a market leading innovator. With its teams and international events, it has won multiple awards, including Best Marketer – five times in succession – Best Trade Exhibition, Best Launch Exhibition, and Sunday Times Top 100 Companies to Work For – four years in series – among others.
CloserStill Media delivers unparalleled quality and relevant audiences for all its exhibitions, delivering NHS and private sector healthcare professionals from across occupational therapy, pharmacy, dentistry, primary and secondary care with more than £16m worth of free training.
---
For more information please contact –
Exhibition and speaker enquiries:
Michael Corbett – m.corbett@closerstillmedia.com
Marketing enquiries:
Harriotte Hodson – h.hodson@closerstillmedia.com