Yorkshire Care Equipment Launch the Lento Care Chair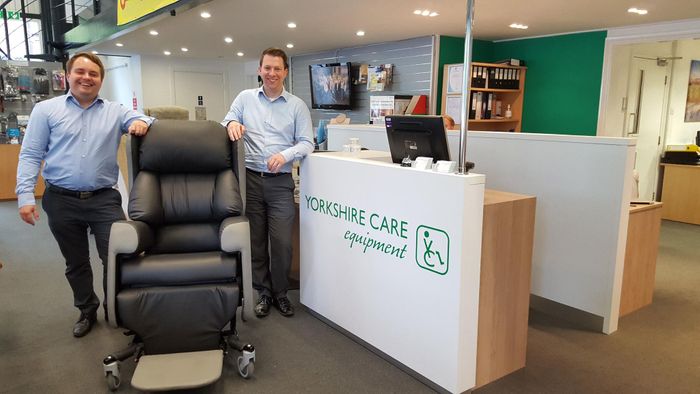 Yorkshire Care Equipment have announced that it is launching its own care chair – the Lento. This is the first time that the care and mobility equipment company has developed and designed its own chair.
Having worked with healthcare professionals for so long, Yorkshire Care wanted to create a care chair that would fill a gap in the market. The company estimate that the Lento will suit the needs of approximately 80% of the population.
Padraig Finn, band 6 physiotherapist at Yorkshire Care said:
"The Lento is leaps ahead of other care chairs due to its adjustability. It's a single chair that can cater for optimal postural support in many people with even the most complex postural presentations is an exceptionally useful quality in care equipment.
"Having such an adaptable chair saves time and money without compromising on the quality of care. That's precisely why the Lento will suit nearly all environments, from clinical settings, to private ones."
Yorkshire Care's work with occupational therapists, physios, and other healthcare professions over the years has made the business uniquely qualified to develop the Lento. With its name meaning 'to flex' in Latin, this care chair provides a solution to care homes and NHS loan stores where several different patients will use the same chair. The versatility of the Lento allows care facilities to provide excellent support and comfort to their patients with just one chair, minimising the need to keep buying and hiring new chairs.
Tom Hulbert, Yorkshire Care's CEO said:
"The Lento will fit a higher proportion of people than other care chairs on the market, which is excellent for multi-user environments where different patient's needs have to be met. The sheer adjustability of the Lento along with all its different built-in features make it incredible value for money.
"This is a great step forward for Yorkshire Care Equipment. The versatility of the Lento means that we don't need to waste time waiting for made-to-measure seating to be made by a different supplier. We can immediately provide and fit the Lento, which saves a lot of time and money. As a family-run business, we're taking an ambitious step by creating our own product. The Lento is just the beginning for our own Yorkshire Care product range."