07 May 2020
Online platform created to source urgent PPE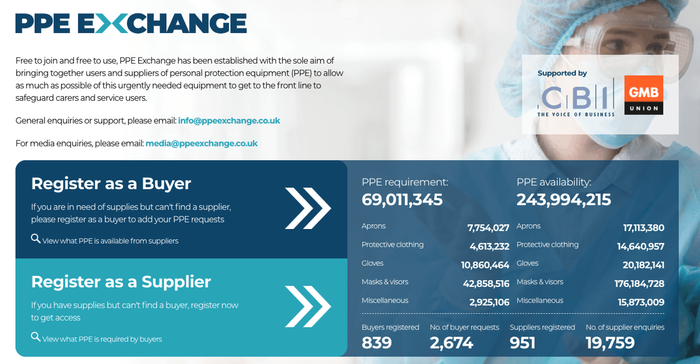 A new website has been launched to connect suppliers of Personal Protective Equipment (PPE) with those who need it most during the current coronavirus pandemic.
PPEexchange.co.uk, https://ppeexchange.co.uk/, is an easy-to-navigate platform that allows key and frontline workers across the independent, voluntary and public sectors to post their PPE requirements, which are then matched to manufacturers and suppliers of vital safety equipment like gloves, visors and aprons.
In the space of just a week since getting the site live, PPEexchange.co.uk has now registered requirements of more than four million pieces of urgently needed protective equipment across the UK for key and frontline workers. Requests have already come in from independent, voluntary and public sector bodies from across the country, all urgently in need of items such as hand sanitiser, disposable aprons and face masks.
Those producing or supplying PPE can register the availability of their products and the site will allow for the two to be put directly in touch.
Grosvenor Health and Social Care is the third largest provider of home care visits in the UK, operating from 74 locations in England, Scotland and Wales, delivering care to more than 8,500 clients a week. They've sourced more than 360,000 pieces of PPE from the site, including aprons, gloves and visors.
Chief operating officer at Grosvenor HSC, Darren Stapelberg said: "We are pleased to report of the success we've had from PPE Exchange. The unprecedented nature of this virus has meant all our existing PPE relationship's and supply chains have been exhausted. We were struggling to find any suppliers that could accommodate our volume orders. The website has allowed us to be matched with a number of suppliers."
The site is the brainchild of Shropshire software specialists Shoothill. They switched their attentions to creating the list through a legacy of contacts in the public sector industry and similar projects in the past. Its team have kept the site free to use for both suppliers and those in need of the equipment.
Managing director of Shoothill, Rod Plummer said: "We wanted to do something to help and realised we had the capacity and knowhow to attempt this. We got the site up and running in a matter of days and since then we have been inundated with requests for PPE.
"Across the country, supplies of PPE are proving scarce, in short supply and at times non- existent. We have heard of care homes, where our many vulnerable friends and family are housed, and home care agencies providing the service in the community, having to resort to improvised masks and aprons fashioned from bin bags.
"Mobilising PPE to get to the frontlines is essential to ensure the safest possible working conditions and critically slow the wave of infection and save lives. Time is of the essence, with shortages and bottlenecks putting more and more people at risk, every effort is needed to tackle shortages."
Celebrities like Dara O Brien and Shoothill's local Conservative MP in Shrewsbury have already tweeted their support of PPEexchange.co.uk. They have also taken their efforts to social media and can be found on Twitter at @PPEexchangeUK.